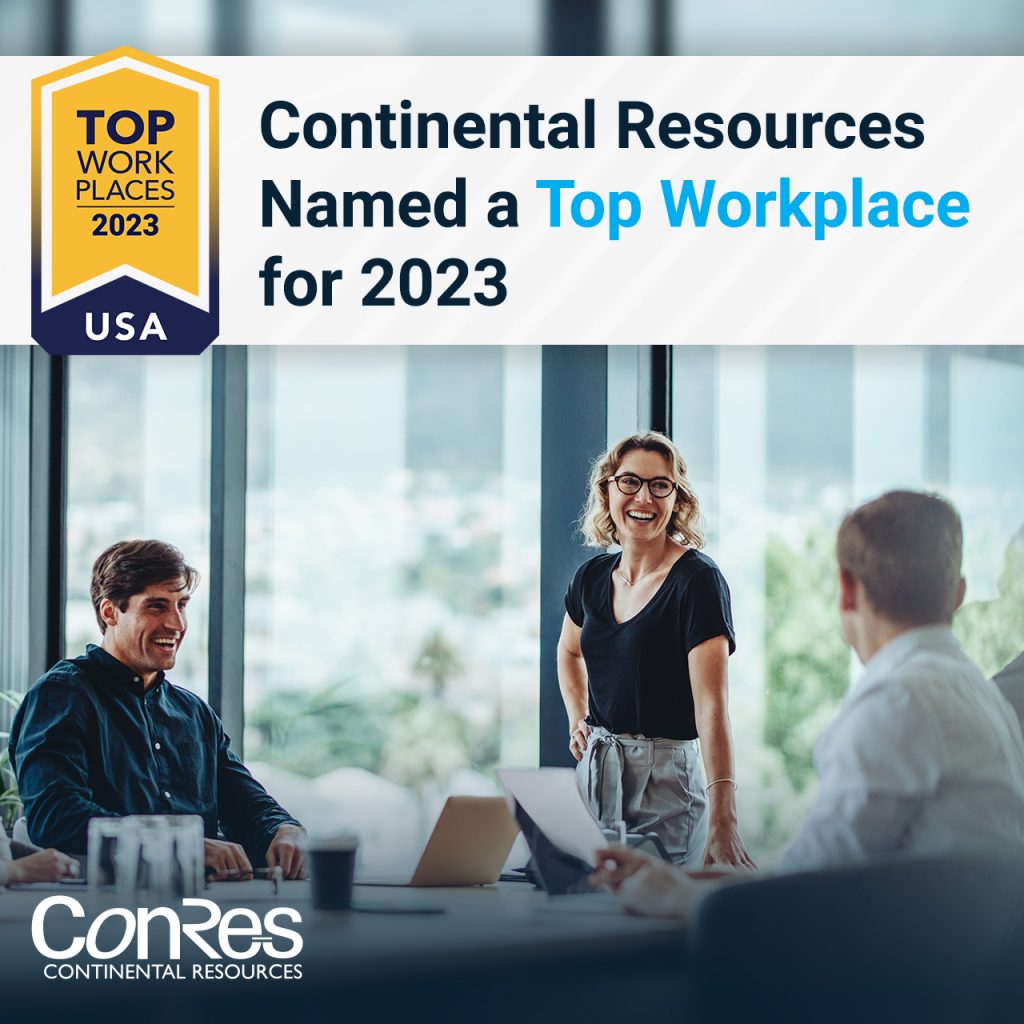 Energage names Continental Resources, Inc. (ConRes) a winner of the 2023 Top Workplaces USA
ConRes has announced it has earned the 2023 Top Workplaces USA award, issued by Energage, a purpose-driven organization that develops solutions to build and brand Top Workplaces. The Top Workplaces program has a 15-year history of surveying more than 20 million employees and recognizing the top organizations across 60 markets for regional Top Workplaces awards.
Top Workplaces USA celebrates organizations with 150 or more employees that have built great cultures. Over 42,000 organizations were invited to participate in the Top Workplaces USA survey. Winners of the Top Workplaces USA list are chosen based solely on employee feedback gathered through an employee engagement survey, issued by Energage.
Results are calculated by comparing the survey's research-based statements, including 15 Culture Drivers that are proven to predict high performance against industry benchmarks.
"As a family, women owned business, we are excited to be meeting our employees' work goals, providing a hybrid work environment and activities that keep employees and families connected.", said Mary Nardella, CEO. "We are dedicated to fostering a supportive, energetic, and inclusive working environment. The fact that we've continued to maintain a top workplace is a true testament to the team's efforts."
"Earning a Top Workplaces award is a badge of honor for companies, especially because it comes authentically from their employees," said Eric Rubino, Energage CEO. "That's something to be proud of. In today's market, leaders must ensure they're allowing employees to have a voice and be heard. That's paramount. Top Workplaces do this, and it pays dividends.
About Continental Resources
Backed by more than 60 years of customer dedication, ConRes is a family-owned global IT solutions and test equipment provider. We offer the broad range of technologies and services you'd expect from a distributor, combined with the personalized touch and flexibility you'd expect from a family business. We have the longevity, reputation, knowledge base, manufacturer partnerships and financial stability to look after you. Organizations trust us to bridge the gap between the manufacturer and their teams, helping them become more nimble and competitive in the marketplace.
About Energage
Energage is a purpose-driven company that helps organizations turn employee feedback into useful business intelligence and credible employer recognition through Top Workplaces. Built on 16 years of culture research and the results from 27 million employees surveyed across more than 70,000 organizations,  Energage delivers the most accurate competitive benchmark available. With access to a unique combination of patented analytic tools and expert guidance, Energage customers lead the competition with an engaged workforce and an opportunity to gain recognition for their people-first approach to culture. For more information or to nominate your organization, visit energage.com or topworkplaces.com.