Continental Resources, Inc. ("ConRes") recognizes that its day-to-day operations can impact both directly and indirectly on the global environment. We have set goals to protect and improve the environment around us through responsible management and by adopting the best practices in this area wherever possible. ConRes will work to integrate environmental considerations into our business decisions and incorporate greener alternatives throughout our operations, and we request that our suppliers do the same as well.
Our policies involve all employees and make it part of their responsibility to help ConRes work towards our goals and objectives within this framework.
2022 – 2023 PAPER REDUCTION INITIATIVE:
In 2022 an executive decision was made to reduce paper use companywide.
To achieve this goal, it was decided to focus on two high paper use processes:
• Expense Reports
• SAP Order Reports
• Reduced printed pages by an estimated 280,000 pages in 2022
OUR YEARLY GOALS:
• Offset Carbon Emissions through use of Solar Technology by at least 250,000 lbs. per year.
– 2022: Reduced by 315,334.13 lbs.
– 2021: Reduced by 265,660.65 lbs.
– 2020: Reduced by 320,150.09 lbs.

• Promote EV Adoption by providing NO COST onsite EV Charging Stations at our corporate offices and have at least one employee or tenant, adopt the use of an EV each year.
– 2022: Added 1 EV user
– 2021: Added 5 EV users
– 2020: Added 1 EV user
DAILY OBJECTIVES:
• Reduce paper use.
• Comply with all relevant legal requirements, codes of practice and regulations.
• Prevent pollution to land, air, and water.
• Reduce water and energy use.
• Establish targets to measure the continuous improvement in our environmental performance.
• Promote environmentally responsible purchasing.
• Involve the community, customers, partners, suppliers, and subcontractors in the implementation of our objectives.
• Identify and manage environmental risks and hazards.
• Provide suitable training that will enable employees to deal with and meet our corporate environmental goals.
• Minimize waste and increase recycling within the framework of our waste management procedures.
RECENT ENVIRONMENTAL AND SUSTAINABILITY PROJECTS AT CONRES:
• Replacing all the outdated fluorescent fixtures at our corporate headquarters with newer, more efficient models. This resulted in a significant reduction in our electricity consumption.
• Recycling all paper and packaging.
• Replacing bottled water with newer technology water fountains so bottles are no longer required.
• Updating all plumbing fixtures to conserve water.
• Even something as small as requesting that employees to use the Calibri typeface which, according to an Associated Press article published in April 2010, is one of the more efficient fonts for ink and paper conservation.
ConRes works to integrate sustainability and environmental considerations into our business decisions, incorporates greener alternatives throughout our operations, and requests that our suppliers do the same as well.
ECOVADIS SUSTAINABILITY RATING
"EcoVadis empowers organizations to drive sustainability and social responsibility in their operations. ConRes, a proud recipient of a Bronze rating by EcoVadis, showcasing our commitment to sustainable practices. Through EcoVadis' comprehensive sustainability ratings, assessments, and collaborative improvement tools, we continually enhance our sustainability efforts, fostering positive environmental and social impacts across our operations and supply chains."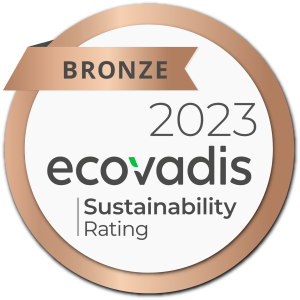 Click here for our EcoVadis Rating Certificate
CISCO ENVIRONMENTAL SUSTAINABILITY SPECIALIZATION
ConRes has achieved the Cisco Environmental Sustainability Specialization. This specialization demonstrates our commitment to integrating environmental sustainability practices into our solutions and business operations. Partnering with ConRes means collaborating with a company dedicated to incorporating eco-friendly technologies and practices into our offerings."
Click here for our Cisco Environmental Sustainability Specialization
Connect With Our Experts
Start a conversation about how to align your technology with your desired business outcomes.