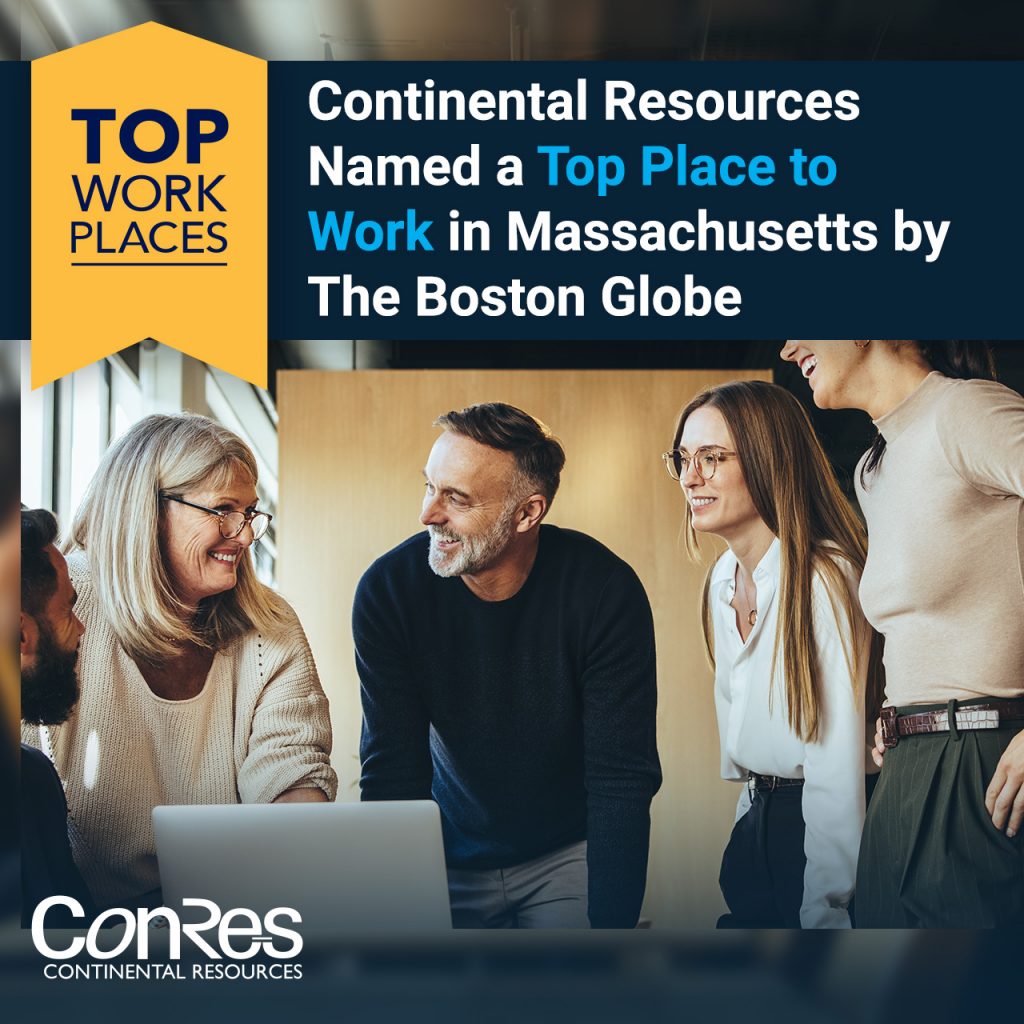 Continental Resources Named A Top Place to Work in Massachusetts by The Boston Globe
Continental Resources (ConRes), a leading IT Solutions & Test Equipment provider, has been named one of the Top Places to Work in Massachusetts in the 15th annual employee-based survey project from The Boston Globe.
Top Places to Work recognizes the most admired workplaces in the state voted on by the people who know them best – their employees.
The survey measures employee opinions about company direction, execution, connection, management, work, pay and benefits and engagement. The employers are placed into one of four groups: small (50 to 99 employees); medium (100 to 249); large (250 to 999); and largest (1,000 or more).
"Being named a Top Place to Work in Massachusetts means we are putting our employees first and supporting their needs in and out of the office as we continue to be productive across our organization.", said Kevin McCann, ConRes Chief Operating Officer.
"As a family, women-owned company, we are excited to be meeting our employees' work goals, providing a hybrid work environment and activities that keep employees and families connected.", said Mary Nardella, CEO. "We are dedicated to fostering a supportive, energetic and inclusive working environment. The fact that we've continued to maintain a top workplace is a true testament to the team's efforts."
About Continental Resources
In an age where large global organizations tend to be publicly traded, impersonal and driven by the bottom line, our women-owned organization remains true to its origins. Customer satisfaction and innovation have been the compass guiding Continental Resources for over 60 years. It's not a feel-good marketing slant—it's who we are.
ConRes IT Solutions provides customers with technology solutions and services, enabling them to keep pace with the rapidly evolving IT landscape. We understand that organizations need continuous development of systems, products and solutions to remain competitive in their respective industries.
ConRes Test Equipment rents and leases equipment to diverse industries ranging from aerospace to education. Our accredited lab helps ensure your equipment is calibrated to a level that meets or exceeds manufacturers' specifications.
Whether you need expertise in keeping IT operations a step ahead of the competition or test equipment for your labs, we promise to treat you like family.