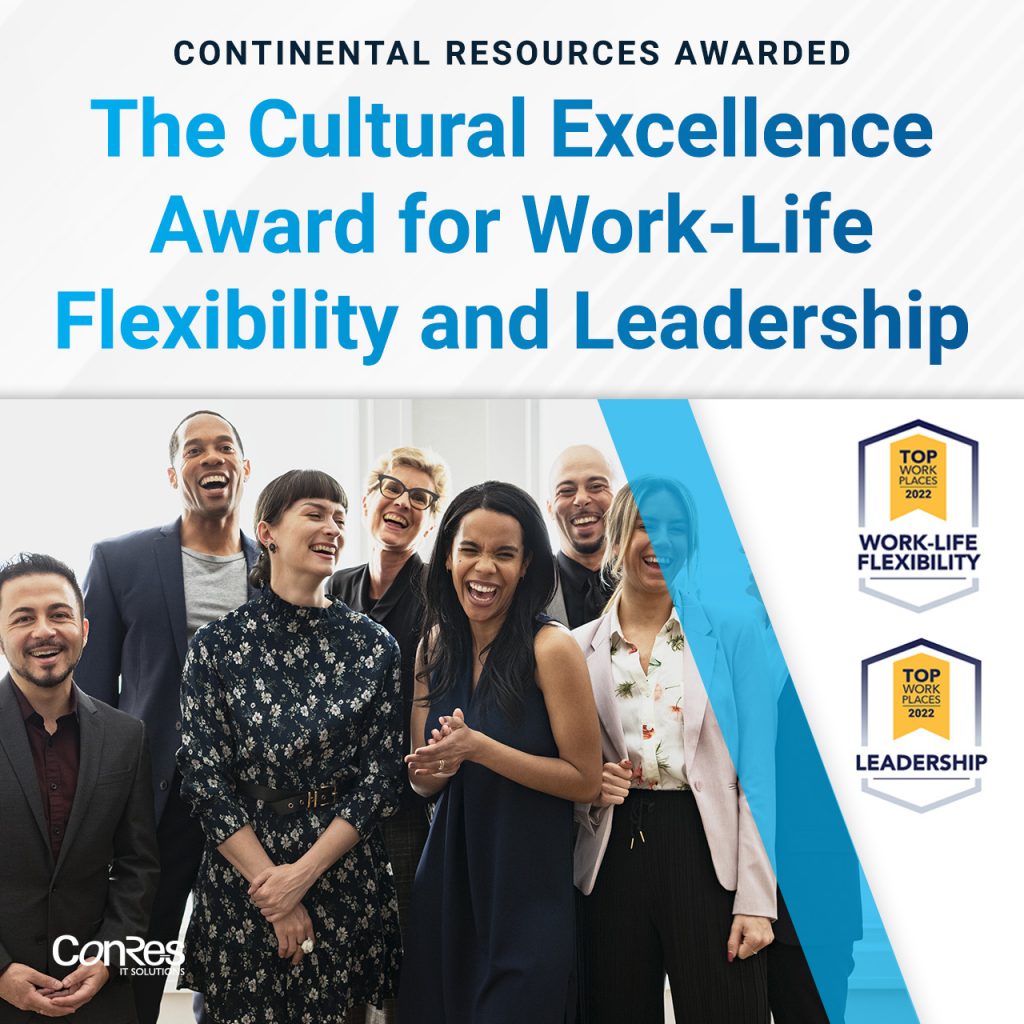 Continental Resources Awarded the 2022 Top Workplaces Cultural Excellence Award for Work-Life Flexibility and Leadership by Energage
Continental Resources announced today that it has earned 2022 Top Workplaces Culture Excellence recognition for Work-Life Flexibility and Leadership. Issued by Energage, the research company with more than 16 years of experience surveying over 27 million employees at 70,000 organizations, Top Workplaces awards are based solely on employee feedback.
Top Workplaces Culture Excellence awards celebrate organizations that excel in specific areas of workplace culture.
The Leadership Top Workplaces award celebrates organizations whose leaders inspire confidence in their employees and in the direction of the company. These leaders understand the needs of customers which front-line employees hear every day.
The Work-Life Flexibility Top Workplaces award celebrates the organizations who provide options to their employees in how and where they work, as well as having managers who care for their employees' concerns.
"Continental Resources is proud to be recognized by Energage for achieving the 2022 Cultural Excellence Award for Leadership and Work-Life Flexibility," said Mary Nardella, CEO of Continental Resources. "This National Award is followed by being named a 2022 Top Workplace by Energage."
"Becoming more of a remote workforce in 2020 taught us new ways to collaborate, and in many ways, enhanced our ability to be productive across our organization. Our employees are dedicated to fostering a supportive, energetic, and inclusive working environment and have a passion for transforming the industries we serve. The fact that we've continued to maintain cultural excellence is a true testament to the team's efforts, especially as we continue to grow and embrace a hybrid work environment."
Top Workplaces awards are based on a research-backed, 24-item employee engagement survey.
"Top Workplaces is a beacon of light for organizations as well as a sign of resiliency and impressive performance," said Eric Rubino, Energage CEO. "When you give your employees a voice, you come together to navigate challenges and shape your path forward. Top Workplaces draw on real-time insights into what works best for their organization, so they can make informed decisions that have a positive impact on their people and their business."
About Continental Resources
In an age where large global organizations tend to be publicly traded, impersonal and driven by the bottom line, our women-owned organization remains true to its origins. Customer satisfaction and innovation have been the compass guiding Continental Resources for over 60 years. It's not a feel-good marketing slant—it's who we are.
ConRes IT Solutions provides customers with technology solutions and services, enabling them to keep pace with the rapidly evolving lT landscape. We understand that organizations need continuous development of systems, products and solutions to remain competitive in their respective industries.
ConRes Test Equipment rents and leases equipment to diverse industries ranging from aerospace to education. Our accredited lab helps ensure your equipment is calibrated to a level that meets or exceeds manufacturers' specifications.
Whether you need expertise in keeping IT operations a step ahead of the competition or test equipment for your labs, we promise to treat you like family.