VMWare vSphere Metro Storage Cluster (vMSC) is now a new certified configuration for Metro storage architectures as of last month (Sept). It's been a while coming, but it is completely worth the wait.
Let's set the stage a bit. NetApp has received some flak for the better part of 2012 for not having their MetroCluster solution on the VMware HCL, mostly revolving around not receiving the vMSC certification. I'm here to open up some understanding as to why, especially for you customers out there that are entertaining a MetroCluster solution.
Originally, NetApp pushed VMware to allow NetApp to do an NFS-only certification, but since that wasn't how the other vendors" were being judged, NetApp was not allowed to play in the sandbox due to the fact that they had not run through the test plans via FC/iSCSI. OK then, NetApp thought, we'll just go back and do both.
And they've done it.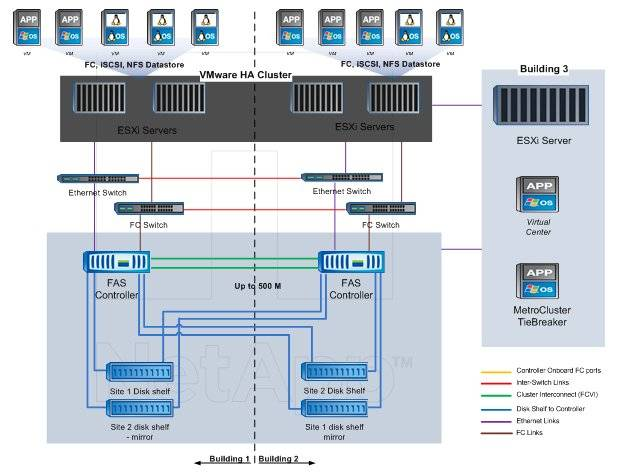 What is vMSC?
vSphere Metro Storage Cluster (vMSC) is a new certified configuration for Metro storage architectures. vMSC configuration is designed to maintain data availability beyond a single physical or logical site. A storage device configured in the vMSC configuration is supported after successful vMSC certification. All supported storage devices are listed on the VMware Storage Compatibility Guide.
What is NetApp MetroCluster?
MetroCluster is a unique solution that combines array-based clustering with synchronous mirroring to deliver continuous availability and zero data loss. As a self-contained solution, MetroCluster is able to transparently recover from failures so mission-critical applications continue uninterrupted. It also eliminates repetitive change management activities to reduce the risk of human error and administrative overhead. You can now benefit from new MetroCluster enhancements:
Nondisruptive upgrades to minimize planned downtime
Automated site failover to reduced unplanned downtime
End-to-end continuous availability in a virtualized environment with VMware® HA and FT
Whether you have a single data center, a campus, or a metropolitan-wide environment, MetroCluster is a cost-effective solution that provides continuous data availability for your critical business environment.
Key Points
Designed for zero unplanned downtime through transparent failover with protection from hardware plus network and environmental faults
Designed for zero planned downtime through nondisruptive upgrades for storage hardware and software
Designed for zero change management through automatic mirroring of changes to user, configuration, and application data
Set-it-once simplicity: easy to deploy, with no complex scripting or dependencies on the application or operating system
Improved read performance
Added efficiency through data deduplication and server virtualization
Success!
As of September 10, 2012, the VMware KB 2031038 has been updated to reflect VMware's addition of NetApp MetroCluster to the vSphere 5.0 HCL, as well as official certification under the vMSC. What makes NetApp different than other storage vendors is that, as of 10/17/12, NetApp the ONLY storage vendor certified for BOTH Block (FX.iSCSI) and NAS (NFS).