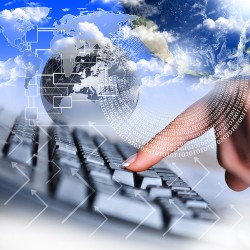 Converged infrastructure is swiftly becoming the preferred way that enterprises of all sizes and industries are designing their IT environments. According to IDC, converged infrastructure spending will reach an impressive $17.8 billion globally in 2016, up from only $4.6 billion in 2012.
Why the rapid popularity? With one centralized, integrated solution that manages and optimizes server, storage, network, and computing requirements, converged infrastructure is delivering a more streamlined data center. By not having to purchase, implement, and support these requirements separately, converged infrastructure provides a vast improvement in cost-cutting efficiencies. This results in a proven, validated solution for data center management.
Converged infrastructure decreases the number of servers required for common applications (like databases and email) through consolidation, while integrating and protecting storage, network, and server resources. It also delivers a wide range of tangible and quickly realized customer benefits, including:
Reducing the amount of time and manpower required to manage IT environments;
Decreasing training requirements;
Protecting equipment; and
Freeing budgets and resources.
In addition, it is designed for scaling up and out, allowing for growth opportunities and improved predictability.
All the major technology players have developed converged infrastructure solutions. They are available in two distinct categories: single and multiple vendor. The technology of single vendor solutions are designed, tested, and implemented by one vendor and tend to be more inflexible. Alternatively, multiple vendor options involve a variety of companies collaborating to combine best-of-breed products in a unified fashion. They are customizable to the customer and easier to scale up or down, depending on individual need.
With converged infrastructure becoming the norm, where is it headed technologically? Experts believe it will become even more customizable. They will be end-to-end, agile solutions that serve and anticipate every need of a business or organization. This may eventually include industry-specific solutions. To achieve this, converged infrastructure`s evolution will have to include additional open platform technology that can serve virtualized, non-virtualized, and cloud infrastructures and applications.
While the future of converged infrastructure is bright, the existing solutions are already making a major impact on IT and business management. They are eradicating a variety of IT issues, like server sprawl and storage silos, and are providing low-maintenance and low-budget efficiencies that allow for data center scaling and overall business growth.
Could your business benefit from a converged infrastructure solution? ConRes has the expertise to assist you in determining how to advance your enterprise with a non-disruptive, flexible converged infrastructure environment. Start optimizing your data center for the future by scheduling a consultation with one of our sales representatives today.