Training increases the value of your IT department and its ability to respond to changing business needs. In addition to keeping up with the latest technology and preparing for your next IT solution implementation, the proven reduction in employee turnover resulting from providing training helps maintain consistency through every project implementation.
According to the Emerging Workforce Study commissioned in 2015 by Spherion Staffing, 29 percent of workers feel their current level of job skills are outdated and leave them at risk in terms of furthering their career. The study goes on to outline that only 33 percent of them say that the training and career development opportunities in their organization are excellent/good. Finally, employers rated the ability to understand and interpret data and evolving technology expertise as important skills that should be required in a job at 25 percent. There is an excellent opportunity to fill the gap of perceived need on the part of both workers and their employers with IT certification and training with real benefits.
Training aids in retention of your teams.
Your organization looks to training to help your employees be better at their jobs it's a given. The added benefit, though, is the lasting value that they see the company is willing to invest in them. Increases in employee motivation have also been seen when providing training programs for personal development and skills development.
Training increases the quality of your team.
As you might imagine, the benefits to your team and organization are extremely positive. The investment of allowing your team to be out of the field for any period of time for dedicated training, should be returned in the following manners:
Increased efficiencies in processes, resulting in financial gain
Increased capacity to adopt new technologies and methods
Increased innovation in strategies and product
The best way to determine this is by implementing some key performance indicators or measurements that will improve your ability to evaluate your return on investment.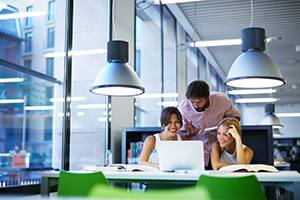 One Vendor's Approach
Training comes in many forms, including webinars, trade shows, online or instructor-led courses. As you know, many technology manufacturers and software companies provide robust training and certification programs. Hitachi Data Systems makes accessing their training simple with a volume discounted training card program.
Hitachi Training Units or Hitachi Training Cards provide savings and scheduling benefits that fit your organization's needs. In addition to the comprehensive educational resources and special pricing discounts you get being a Training Card member, you can also take advantage of these special benefits:
Online training needs analysis
Technology Update Series classes
Complimentary copy of the book, Storage Concepts: Storing and Managing Data"
Learn more about training and certification from Hitachi Data Systems Academy online, and get started with the right education program for your team today.