The big release of the Keithley Touchscreen SourceMeter is doing something that's really interesting for the Test Equipment community: bringing in a major trend in popular technology.
There's something that's still magical" about touchscreens, whether it's a kid playing Angry Birds on a smartphone, or an adult putting presentations together on a tablet. With pinching, swiping, and tapping becoming routine in technology, it's great to see that translate into evolving interfaces in test and measurement.
Touchscreens are all about controlling through intuitive actions, which replace button pushing for what is essentially finger calisthenics." This type of interactivity is a common trend in popular tech, including not only touchscreens, but with fit" videogames that emphasize your body as the controller" as well.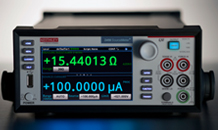 But is it just a gimmick? Absolutely not.
Through a tactile interface, touchscreens can bring users closer to the product. Consequently touch tech" minimizes the learning curve and makes you work more efficiently. Simple interfaces mean less manuals, and less manuals mean more time focusing on the what you actually want to use your equipment for.
If you want to see how something like a touchscreen can energize a target audience, look no further than the Tesla Motor Company. With a touchscreen dashboard, Tesla cars have become wildly popular, leading to a boom in the company's stock. While this is not a new feature in the auto industry, Tesla made it the focal point of the interior.
Keithley has done the same exact thing with its SMU 2450. A touchscreen means less physical buttons, allowing for a larger display and a more compact, efficient design. This trend is now transcending high and popular tech, and it will be exciting to see what new equipment comes out with this type of interface.
Touchscreens: technological wildfire.