Top Technology Trends for 2015 – #8 3D Printing
Remember the food replicator from Star Trek: The Next Generation? We're getting close to that being a reality and so much more with 3D printing. Plastic, metal, and clay are among the top materials used currently to produce 3D prototypes, data visualization, and even print parts in space.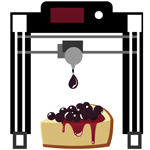 3D printing technology is revolutionizing the way we think and undertake manufacturing, healthcare, farming and food production – the ripple effects of 3D printing will go far and wide. We want to discuss the state of where 3D printing is now and where things will go next – after that, we'll leave it to you to imagine a world where you can 3D print a cheesecake whenever you want.
Faster product innovation:
3D printing is already being used widely throughout manufacturing – in fact, in 2014, PricewaterhouseCooper conducted a survey of the top 100 manufacturing brands and found that two thirds of them were already using 3D printing and a quarter of them were using 3D printing for prototyping.
Ford Motor Company is an excellent example of a company utilizing 3D printing to produce prototypes – but they're not producing small prototypes, they are printing prototype mustang engine covers in plastic while they define their future strategy for manufacturing things in metal.
The ability to quickly produce a prototype is going to change the way we innovate. In the near future we are going to see innovation speed up as the cost for 3D printing comes down.
3D printers in every factory:
Well, maybe not every factory, but we are going to see 3D printers show up in a lot of factories for purposes beyond prototyping.
For example, GE is printing some of the odds and ends that go into their wind turbines. This kind of utilization of 3D printing can create cost savings by eliminating the middle-man and their associated markups to buy things like bolts.*
*Although, at this point, it may be more expensive for your company to produce something small like bolts on a large scale for a factory because the input cost of the 3D printer is great and the speed at which you can print the bolts may not be advantageous, but you get the point.
3D Printing Will Get Better and Stronger
Costs will come down due to advancements in software design and cheapening manufacturing, but 3D printing will see great advancements in both scale and strength of printings. GE may be printing individual parts for turbines right now, but what about printing the whole turbine? Or Ford, printing the whole body of a car and being able to do it rapidly enough that it is advantageous to invest in a whole fleet of 3D printers.
Disruptive Applications Will Be the Norm
Currently, 3D printing applications are limited by technology. But, with its rapid development, it will begin to disrupt almost every industry. Though we are not quite there yet, here are a few applications that may have seem far-fetched a mere ten years ago but will soon be a reality:
3D Printing a House: This is already a reality. 3D printing has been used in China to construct as many as 10 houses per day. This system is referred to as Contour Crafting and is being developed by Behrokh Khoshnevis, a University of Southern California engineering professor.
Printing body parts: So far, scientists have been able to 3D print cardiac cells. Soon, it will be entire organs, completely revolutionizing the healthcare industry.
Weapons at the touch of a button: Yes, a 3D printed gun already exists and will impact how weapons get distributed in the future.
These are just a few of the applications being impacted by 3D printing. If you really thought about it, how far could this take us?
Get Ready For The Legal Battles
Just as everything in the world of 3D printing seems to be coming up roses, many analysts and industry experts are warning that we should brace ourselves for the legal ramifications of 3D printing, i.e. intellectual property disputes.
So far we've only talked about industrial level 3D printing, but we expect this to reach a consumer level too. But if we look at the rates at which Americans illegally download music and movies online, can you imagine the black-market of schematics for your home 3D printer that will arise? Or worse, you could be more blatant about it and take your 3D scanner straight to Crate & Barrel, scan a set of flatware, go home, and print out 6 sets for your dinner party that night.
The legal battles are going to be abundant – so be ready.
Conclusions
The 3D printing revolution is here and it is going to change your life one way or another. Through cheaper airfare because you're flying in a lighter, more fuel efficient, 3D printed airplane, or because soon next-day Amazon Prime shipping won't be enough, you'll want to be able to immediately print anything you buy online… this technology is going to change our lives.