For many engineers, researchers and quality assurance analysts, having access to up-to-date and appropriate electronic test and measurement equipment is key to successfully developing top-performing products. Yet how organizations acquire their critical test and measurement equipment is no longer as simple as going scope shopping.
Today, instrument acquisition needs to be part of your organization's broader business, budgetary, and technology development strategy. Whether you choose to purchase, rent or lease test equipment depends on multiple divergent factors, and your optimal solution may even be a hybrid of these approaches. What's most important is putting an acquisition strategy in place that takes these factors into account – and then working with a partner that offers the flexibility and device selection to make your strategy a reality.
For more insights into instrument acquisition strategies, download our buyer's guides for wireless connectivity, aerospace and defense, and education that explains the advantages of differing approaches, including:
Still the most popular option, buying is a good choice for companies with ample cash, and for acquiring key instruments that are in regular, long-term use. Purchase of pre-owned equipment is also an option.
Short-term equipment rental is a wise choice when specific devices are needed for a project of defined length or for instruments used in fast-moving, agile workflows where projects change direction and focus quickly. Test equipment rental companies also provide try-before-you-buy opportunities to test-drive equipment pre-purchase.
Longer-term equipment lease programs are smart choices for companies that don't want to tie up money in expensive equipment inventories. In addition, lease payments are currently considered OPEX (as opposed to CAPEX incurring multi-year depreciation).
Every organization is different, and the optimal solution for acquiring electronic test and measurement equipment at your operation may be a unique mix of approaches. Let our buyer's guide help set your strategy, whether you choose to rent, lease, or purchase new or pre-owned equipment, or pursue a hybrid of these options.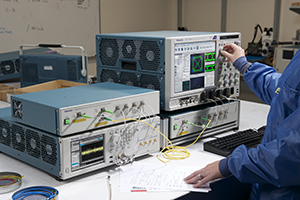 ConRes has the expertise to help you make the right strategic decisions for acquiring test and measurement equipment. Give us a call at 800-937-4688 or email TestEquipmentTeam@conres.com to talk to one of our experts.
Download Our Buyer's Guides for your market:
Wireless Connectivity: http://bit.ly/2ahuYSA
Aerospace and Defense: http://bit.ly/2ahvwrG
Education: http://bit.ly/2a1bpwl