In a previous article, I wrote about the oft-overlooked responsibilities of the IT Buyer, which include processes that come later on in the supply chain, like integration, configuration and implementation. This article explores these processes in greater detail and explains how they circle back to the IT Buyer.
Now, you might be thinking, What on earth does the IT Buyer have to do with setting up hardware and implementing it into a data center?" At first glance, nothing at all. But if you take a closer look at the complexities of the IT supply chain moving a multi-vendor solution from point A to point B, having experts available to stage, test and configure the technology and finally getting the solution into production they get easier to manage when you work with a great IT solution provider. And choosing the right provider is a responsibility that falls to the IT Buyer.
So while most IT Buyers won't be doing much of the heavy lifting" throughout the supply chain, understanding what potential middle- and late-stage disasters could derail a rollout can come in handy when choosing a solution provider.
Here are three ways to prevent common supply chain disasters:
1. Assess the size of the rollout
Multi-vendor IT roll-outs have a lot of moving parts, especially when you factor in the complexities of shipping solutions globally. Overlooking key components like the availability of engineering resources or requirements for configuring technology can delay implementation, eat up costs and tax your internal resources. For this reason, it's essential that Buyers consider how the size and complexity of a new roll-out will impact the needs of their supply chain.
Whether your roll-out is contained within a specific geographic region or spans the globe, it helps to proactively consider your team's needs for:
Domain knowledge for technology
Availability and scalability of engineering resources
Facilities for testing, configuring and repackaging technology
Trash and recycling management
2. Get up to speed on global shipping
Shipping solutions globally add a whole different wrinkle to your supply chain. For most companies, the complexities of global shipping are unfamiliar and may require specific, dedicated insight or support. A provider that is well-versed in navigating around potential roadblocks like duties and taxes, currency conversion and import licensing and documentation can give your team a huge advantage when shipping solutions globally.
3. Identify the right resources
As I've alluded to, the larger and more complex your roll-out is, the more engineering support it will likely require. Is your organization staffed for this? Can you re-allocate experts to help stage and configure new technology? Does your staff have the domain knowledge to perform the implementation? These are questions that should be asked at the beginning of the supply chain so you can select a provider that has the resources and expertise your team lacks.
For a snapshot of these disasters and how IT Buyers can help avoid them, check out our guide to preventing supply chain disasters.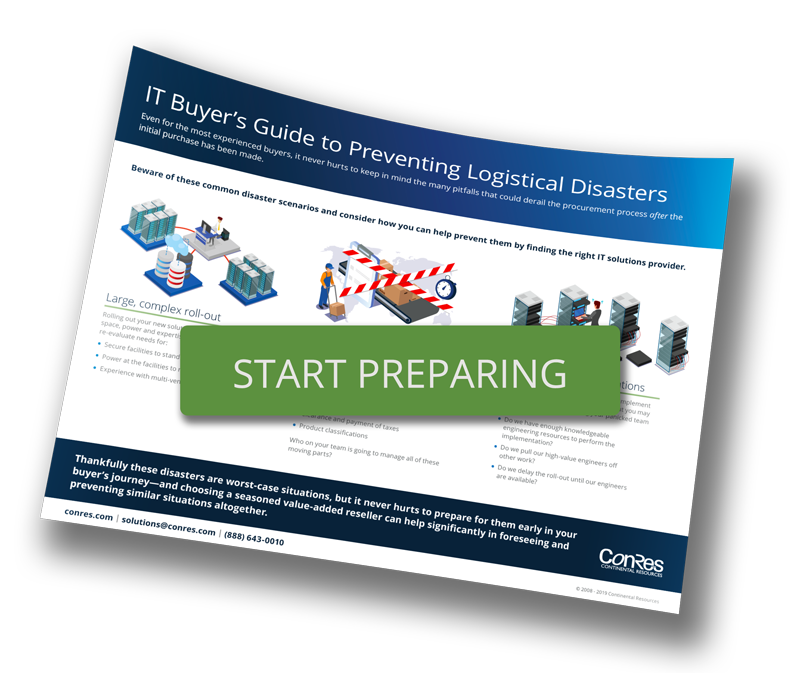 Our Guide to Preventing Supply Chain Disasters
This blog post was previously published on Mark Boisvert's LinkedIn page.