Over-worked? Approaching burnout? We've all been there, and it's not pretty. Stress isn't healthy or fun, but we often justify stress as another part of the job. According to PayScale, tech companies are the most stressful places to work. The effect of stress impacts multiple levels of a company.  Learning the importance of managing stress on the job is essential for contributing to a positive company culture, innovating internal processes and maintaining overall physical and mental health.
Stress causes negative culture cycles, where stressed managers create stressed employees which results even more stressed-out managers, and on and on. Having a place to simply talk it out, such as a stress-free breakroom or over a mindless game is a great way to manage stress. Chances are, if you're feeling overwhelmed, co-workers feel the exact same way. Use this as a chance to build a positive company culture, and deal with critical issues preventing top performance.
Managing stress is crucial for innovation. If stress keeps you constantly overwhelmed, critical and innovative thinking becomes secondary, which perpetuates more stress. To encourage innovation and critical thinking, take frequent breaks with team members to collaborate in a setting outside of a conference room or desk space. Flashes of crucial inspiration are most frequent when we aren't preoccupied with a million work tasks or impending deadlines.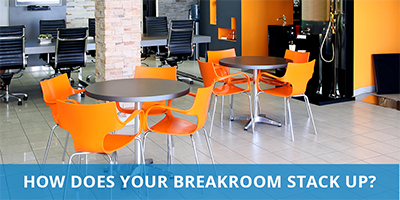 Stress affects the body negatively in more ways than low work performance. The central nervous system, muscular system, and hormones are all affected negatively by chronic stress, which has serious implications beyond the workplace. Take a quick walk around the office building if you feel like you're about to burnout. Do small stretches in the breakroom, or take a few minutes to read your favorite book away from your desk. These seemingly small activities will provide you with a much better quality of life, inside and outside work.
By taking the time to manage our stress levels with regular breaks throughout the day, we can avoid an endless storm of stress and negativity. When you take some time to collect your thoughts, or get a handle on your workload, you'll become an important asset to your company by promoting a healthy workplace culture, inspiring innovative ideas, and being physically and mentally healthy.  Find out how to give your current breakroom a serious upgrade by winning cool new gear that will help you manage stress on the job and live a happier, healthier life.