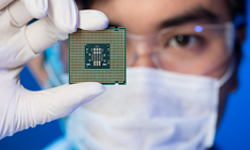 With growing demands on data storage and performance as a result of IT environments becoming increasingly service-oriented and complex, scale-up platforms are limited in what they can deliver. In order to meet mounting requirements of new IT models like cloud integration, while also providing unified SAN and NAS support, companies have to scale-out their data storage.
How can this be accomplished when most existing scale-out solutions are inflexible and inefficient? NetApp has answered the call for a revolutionary solution with the release of its FAS8000 Series the industry`s only unified, scale-out architecture. The NetApp FAS8000 enterprise storage system is designed specifically to accelerate workloads, increase flexibility, and integrate existing storage capacity all at two times the performance of the previous generation.
The NetApp FAS8000 features a multiprocessor IntelВ® chip set and leverages high-performance memory modules, NVRAM to accelerate and optimize writes, and an I/O-tuned PCIe gen3 architecture that maximizes application throughput.
With the unmatched scale-out capabilities of NetApp Data ONTAPВ® storage platform as its basis, and backed by high-performance hardware and flexible software that manages existing functions and adapts to new applications, the NetApp FAS8000 series can run SAN and NAS workloads simultaneously. Previously, SAN silos led to unutilized storage capacity. In NetApp FAS8000, NetApp`s FlexArray acts like an umbrella to unify silos. This storage infrastructure unification accelerates workloads twice as fast, with two times more flash function.
FlexArray storage virtualization software runs on the FAS8000 to provide virtualization for EMC, HDS, and NetApp E-Series arrays. FlexArray unifies and simplifies your IT operations by virtualizing your existing storage assets. This delivers added value, as a single device is serving as a data management layer for expanded operations. There are three FAS configurations in the NetApp FAS8000 enterprise: FAS8020 replaces FAS/V3220, FAS8040 replaces FAS/V3250, and FAS8060 replaces FAS/V6220.
IT environments can be scaled up and out with the NetApp FAS8000, depending on need. The system has the capability to scale to 57PB, and this massive capacity guarantees that environments will remain flexible and prepared for growth.
The NetApp FAS8000 streamlines a variety of IT operations. It virtually eliminates downtime with more than 99.999% availability, installations can be completed three times as quickly, and data management is automated. In addition, FlexArray provides for EMC, Hitachi, and NetApp E-Series arrays to be included in FAS8000 functions, which achieves consolidated existing storage management. Combined, these features result in higher productivity, reduced costs, and exceptional ROI.
The NetApp FAS8000 provides superior data management and value, while securing future data needs with its unique scale-out capabilities. Additional technical features and benefits of the NetApp FAS8000 are available for review.
To learn more about how this newly released enterprise storage system can future-proof your company`s IT environment, click here.