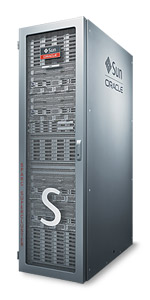 The Oracle SuperCluster T4-4, new in the Oracle SPARC T4 series, is the world's fastest general purpose engineered system, delivering scalability, high performance, availability, and security for many enterprise applications including database, middleware, and Oracle and custom applications. As a completely optimized package of servers, the SPARC SuperCluster T4-4 integrates high performance technologies including Oracle Exadata Storage Servers and Oracle Exalogic Elastic Cloud while utilizing SPARC T4-4 series servers, Oracle ZFS Storage Appliances, Infinigand I/O fabric, and Oracle Solaris 11.
What are some features of the Oracle SPARC SuperCluster T4-4 system?
As with many of the SPARC T4 series servers, the SPARC SuperCluster T4-4 provides built in redundancy for keeping systems up and running around the clock and integrated on-chip cryptograpgic acceleration for secure computing. Other specifications include four eight-core SPARC T4 processors, 1 TB memory, six 600GB 10,000 RPM SAS disks, two 300GB solid state disks, four InfiniBand QDR, and four 10GB Ethernet.
Will the Oracle SPARC SuperCluster work for me and my business?
The Oracle SPARC SuperCluster T4-4 is a good fit for a number of database deployments. Examples include consolidation of smaller database servers into a single cluster, a turnkey development and test platform for customers moving to Oracle Database 11g Release 2. For smaller databases, the SPARC SuperCluster T4-4 includes the newest SPARC T4-4 series servers suitable for consolidating a number of smaller Oracle databases. It also allows you to run smaller applications in secure Solaris Zones on virtual machines supported by Oracle VM Server for SPARC. However, for high end database deployments Oracle recommends the SPARC Enterprise M-series servers or Oracle Exadata. These solutions provide maximum scalability and extreme performance.
Who can I contact for more information on the Oracle SPARC SuperCluster T4-4 system and other SPARC T4 series servers?
ConRes is dedicated to helping you find the right solution to fit your needs. With the ability to work with multiple partners, there is no bias towards one manufacturer. To learn more about the Oracle SPARC SuperCluster T4-4, Oracle Exadata, and Oracle SPARC T4 series servers contact ConRes sales.