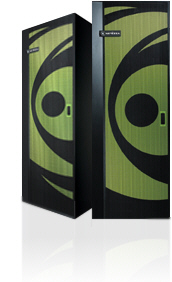 In addition to the software and hardware products you need to keep your data center up to date and running efficiently, the cost of powering your data center and cooling it must also be considered. Often times, this is not taken into consideration when calculating the total cost of ownership (TCO) and it may not be the first thing that comes to mind when looking to build or remodel a structure. For this reason, many companies are turning to green IT initiatives, such as data warehousing through Netezza.
In 2007, Energy Star conducted a survey estimating that nearly 61 billion kilowatt-hours were being consumed by data centers in 2006.* A total cost of $4.5 billion dollars worth of electricity. They anticipated this statistic to double by 2011, estimating $7.4 billion. With the rising cost of powering and cooling, an increase amount of businesses are now looking at their carbon footprint and accessing new green IT initiatives.
Energy Efficient Data Warehousing
As members of the Green Grid, IBM's Netezza and their suppliers have worked to create a data warehouse appliance that combines power and space effectively for the computer room. With Netezza's patented Asymmetric Massively Parallel Processing™ (AMPP™), a different approach to processing massive queries provides a proven increase in performance, but also dramatically lowers power consumption, heat, and space requirements. This architecture delivers unique streaming analytic processing, taking advantage of high-end embedded technology often used with medical imaging and industrial process controls, and adopted by Netezza for data warehousing and advanced analytics. AMPP™ combines open, blade-based servers and product disk storage with IBM's patented data filtering using Field Programmable Gate Arrays (FPGAs).
With Netezza, the average power consumption is 7,500 watts per 25 TB, compared to upwards of 38,000 watts for other solutions. At 25,600 BTU/hr, you can expect to save up to 80% in cooling costs when compared to an MPP solution (129,900 BTU/hr).
Although saving on energy, you don't have to sacrifice performance. Netezza has worldwide recognition for its architecture that processes terabytes and even petabytes of data in record time. Interested in learning more about Netezza and how it can help your business? Contact a ConRes Representative today.
Report to Congress on Server and Data Center Energy Efficiency