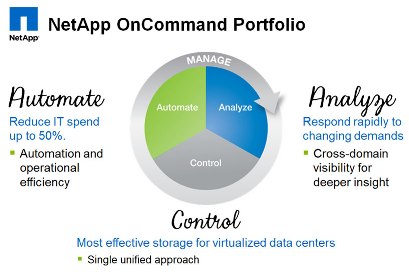 How does OnCommand automate storage management? Describe how this can reduce a customer's workload.
 
The OnCommand family features OnCommand Workflow Automation. Workflow Automation provides the ability to create simple or complex workflows in just minutes. It also lets storage admins integrate storage workflows with existing IT processes and align with NetApp best practices. This reduces the customer's workload in a number of ways:
Eliminates errant keystrokes and manual errors
Accelerates provisioning, migration, decommissioning with one-click automation
Facilitates set up of: virtualizion; applications as part of an orchestration process; and set up of FlexPod™ software or virtual desktops, perform storage cloning, or conduct a centralized NetApp® SnapManager® software activation
Enforces company-designated best practices for resource naming, provisioning, and protection architectures
What sets OnCommand apart from other storage management systems?
The OnCommand offerings allow streamlined management from modest IT deployments up to multi-datacenter large Enterprise challenges. Facilitated setup, online monitoring and management and flexible reporting are accommodated through powerful tools included with every NetApp offering.
Industry-leading analytics tools including OnCommand Balance and OnCommand Insight provide workload analysis in physical, virtual, and hybrid environments. These tools which integrate seamlessly with virtualized environments from VMware and Microsoft allow end-to-end visibility and optimization of performance and capacity – well beyond the capabilities of native tools.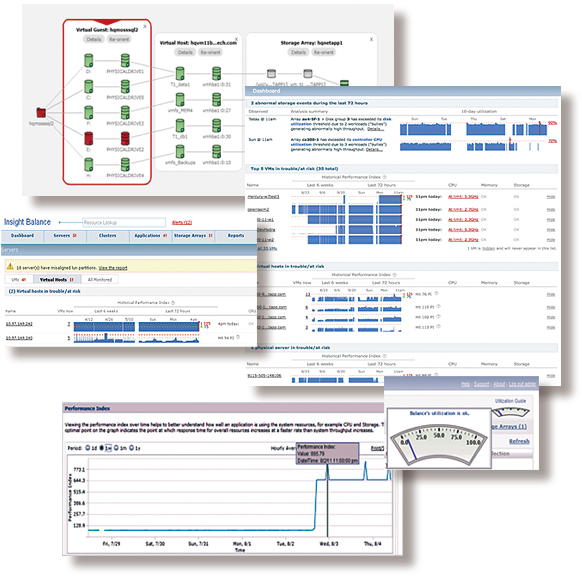 Who could benefit from the use of OnCommand?
Both nascent small environments being built with an eye to consolidation and larger mature or rapidly-expanding environments with goals of increased utilization and efficiency can benefit. The tools ensure that new and future resource deployments are made with the most efficient use of IT dollars. Complex tasks such as infrastructure consolidation as a result of merger or acquisition of a large SAN fabric – can be planned and facilitated by use of these powerful tools.
Explain how OnCommand Balance can reduce the costs and risks of shared virtual IT infrastructure.
Risks and their attendant costs for mitigation are incurred when resources are deployed without a clear understanding of existing challenges and limitations. Balance can assess the current environment with a complete view from Application, to the VMs which comprise it, to the virtualization hosts on which they reside (with their available CPU and Memory) – all the way through to the back-end storage which provide the critical Storage IOPs.
With this information in hand, as each new resource is deployed:
Additional memory or CPU to provide more performance headroom for critical services
More disks or faster-response SSD or other Flash architectures
These new capabilities will be added only as required – and precisely where most-needed to eliminate the risk of throttled performance without wasting money by spending it in the wrong place in the infrastructure.
Patented technologies in Balance provide ongoing analysis of a Service's workload requirements and allow optimized decisions for spending and resource allocation. Other competitive tools use simple threshold-setting. Balance determines a workload's performance envelope even as it changes over time.
As a resource (CPU, Memory, Storage IOPs) is taxed by these workloads and approaches or exceeds available capacity – the bully" applications are identified and they, or their victim" applications can be moved to areas less impacted in the IT environment. Risk is actively monitored and mitigated.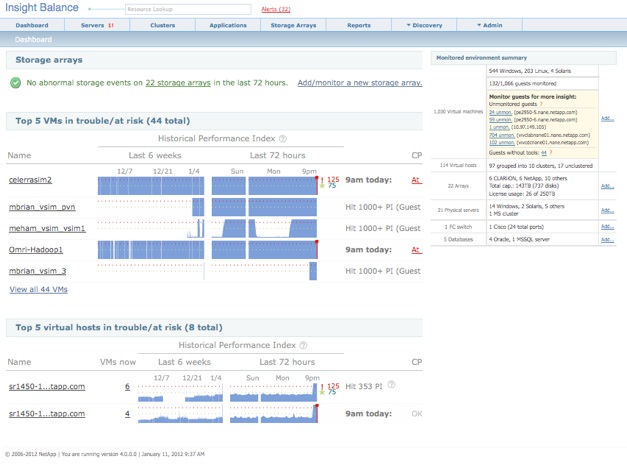 How does OnCommand Insight help customers set policies and best practices for operational excellence?
OnCommand Insight (OCI) can quickly gather detailed information about complex environments, and, like Balance allows end-to-end visibility of those infrastructures.
OCI creates and updates a complete DB of the resources, their ongoing capacity and performance utilization characteristics – and the business entities within the company to which they are assigned.
Policies can be set for resource usage and even acceptable levels of redundancy of access to the resources. When vulnerabilities or violations of the policies are determined, alerts can be triggered – eliminating the possibility of a slowdown or outage even before it occurs.
As the policies are customizable to the business entities themselves, monitoring and reporting ensure adherence to best practices and optimization of spending – operational excellence – for each business or working group within the Corporation.
Explain how OnCommand helps customers harness existing resources to maximize benefits.
The OnCommand family of tools provides complete Control, Automation, and Analysis of NetApp storage resources. In the case of the Analytical tools Balance and Insight, this oversight extends to the entire Service or Application infrastructure.
On last capability that the family shares is the ability to Integrate with existing in-house tools and Orchestration frameworks from vendors like BMC, CA, IBM, and others.
By leveraging the guidance and control capabilities afforded by OnCommand, existing infrastructures can most effectively employ all efficiency and performance capabilities in the existing infrastructure. The customer's policies and best practices can be implemented, monitored, and enforced by analysis and automation to eliminate the possibility of errors.
These benefits are afforded to all customers as their instrumentation goals grow from simple setup and oversight to ongoing optimization and integration within a mature architecture and framework of management.
Learn more about NetApp OnCommand and our other NetApp offerings