Big data is not simply growing – it's exploding. According to IDC, enterprise disk storage volume will increase from 20 exabytes in 2010 to nearly 120 exabytes in 2015 (Whitepaper: Storage
Infrastructure Assessment Services: Empowering Datacenter Efficiency Through Better Usage Visibility," May 2013).
Thanks to social media, digital entertainment, telecommunications, and electronic financial services, among other data creators, extreme data usage has permeated all aspects of modern life – presenting a serious challenge to IT managers. This unprecedented growth creates a high demand for storage that can prove taxing for managers trying to juggle operational, efficiency, and security needs – usually with budgets that are not sufficient to comply with ever-expanding demands.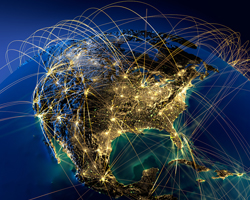 Growing data centers also tend to have disparate systems and processes, environments supported by a variety of vendors, and inherent operational inefficiencies. As a result, how can IT managers improve storage ROI while maintaining the integrity of their data centers, with often flat budgets? NetApp's Infrastructure Assessment Service is the solution – and Continental Resources is pleased to announce it is now offering this service free of charge to its customers.
The NetApp Infrastructure Assessment Service is performed securely by a remote team over two weeks. It does not require an on-site analysis. Backed by NetApp's OnCommand Insight and Balance products, the Infrastructure Assessment Service quickly identifies vulnerabilities in the storage environment, as well as any orphaned storage. It also reports consumption costs, achieves increased insight into total storage capacity, and determines whether existing storage devices are completely utilized.
The NetApp Infrastructure Assessment Service provides IT managers with a complete data center snapshot that results in:
increased storage efficiency
processed streamlining
improved performance
reduced costs.
This provides better control of data sprawl and leads to improved growth management and ROI.
NetApp has performed over 550 of these assessments over the past few years. As a valued customer of Continental Resources, add your company's name to that list with our compliments. We are confident that the results will empower your company to expertly manage the big data storage challenges on the horizon. Contact us today!