High-performance computing (HPC) is the catalyst for new developments in medical and scientific research, financial management, and technology solutions, among other industries and government agencies. The ability to process large and complex data applications reliably and efficiently is central to the success of HPC projects and maintenance.
The impressive results produced by HPC naturally present a variety of data management challenges (consider the sheer volume of data processed alone). In addition to performance, energy and space usage, and related budgetary concerns, HPC users are most often confronted by the ever-increasing need for scalable and flexible data storage. How can data-intensive HPC environments maximize results while ensuring capacity? The NetAppВ® E5500 Storage System is the solution the HPC sector has been seeking.
Designed to deliver bandwidth performance and density on enormous scales, the NetAppВ® E5500 Storage System simplifies HPC data management and processes at high speeds – and with double the bandwidth performance of NetApp's В® preceding generation. The 60-drive 4U disk delivers the extremely dense storage capacity required of HPC processes but also reduces the system footprint by 60% compared to competitive solutions. The NetAppВ® E5500 Storage System's compact design achieves maximized space usage and effectively reduces power and cooling requirements; making it a valuable, budget-saving solution.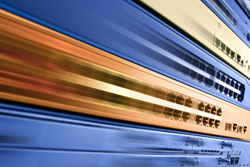 Along with these capabilities, the system is easily scalable with a modular architecture that utilizes a 2U or 4U building block for its foundation. Its variety of form factor and drive technology options accelerate custom IT environment integration in a compact fashion. High-performance file systems can also be scaled with a storage rack featuring up to 600 drives – making scaling virtually limitless.
The NetAppВ® E5500 Storage System is designed with field-proven, seventh-generation architecture and provides high reliability and 99.999% availability. These integral features, coupled with NetApp'sВ® global support network – including NetApp AutoSupport™ tracking options – provide top-notch customer service and prevent downtime, ensuring non-disruptive HPC operations.
This system assures data integrity for the most complex HPC needs, while lowering storage space and energy costs with built-in efficiencies. Its unique, flexible architecture also eliminates data storage concerns that come with HPC projects, as it provides for nearly unlimited scaling.
The NetAppВ® E5500 Storage System truly is the future of HPC data storage. Find out more about this solution and how it can transform your big data challenges by contacting us today.