As stated by Forrester Research, All companies are in the data business now." Recognizing that a traditional IT model will not continue to meet digital demands of the future is one of the hard facts CIOs are having to face in 2016. In order to thrive, executives must understand the drivers of IT transformation. Supporting innovation while meeting the communication needs of customers and creating a more efficient workforce will be the only way to continue moving forward.
Three Keys to Successful Data Transformation
How to achieve successful data transformation is just one of the many challenges being created by big data this year. It's a challenge because it's new and most CIOs and CTOs are still deciding where it fits in their current model. If we break down what's currently driving the need for data transformation, it can help us better understand how to best leverage digital transformation tasks and if the current IT model can support it. The three drivers include:
Making data transformation a top priority. If your organization isn't growing and evolving, then it's at risk. As a proof point, according to a report by the Harvard Business Review, since 2000, 52% of the names on the Fortune 500 list are gone. Utilizing data to its fullest potential will help your company increase revenues, but in order to fully utilize the data, it must be transformed and analyzed appropriately.
Reaping the rewards of providing true customer value by developing a digital workforce. With increased productivity and new offerings, your employees will be able to provide better customer service that increases loyalty and revenues.
Looking toward the future to ensure your organization is hiring the right digital skills and the best collaborators. Even if you're not doing a great job with data transformation at this very moment, you still need to recognize and hire a team now with the skill sets needed to drive these future initiatives.
The Foundation of Data Transformation
In addition to the elements that are driving data transformation, knowing your foundation and where to start digging in can help accelerate your path to success. As our future growth depends on a data-to-decisions cycle, we must hone in on data needs and the right data strategy:
Data Management
Data Governance
Data Mobility
Data Analytics
The cloud is also going to be your biggest asset when it comes to allowing your organization to grow as your needs change. Whether it's secure private, public or a hybrid cloud solution, having some level of cloud support will make these transformations that much easier for your organization to get on board.
HDS Approach to Data Transformation
HDS CTO, Hu Yoshida's blog points out three specific ways CIOs are addressing the need for digital transformation, including:
Doing more with less
Constructing bimodal IT solutions
Rethinking the entire organization from the ground up.
Mr. Yoshida offers some context by suggesting the first option is frequently happening when CIOs are running IT departments as cost centers. While continuously trying to keep costs down, this option does not give IT the time or support to explore innovating data technologies that lead to better decisions for the organization as a whole.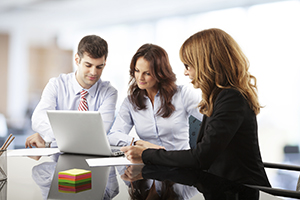 Depending on your business model, the second and third options are better for keeping in touch with the rapidly changing world of data technology. Whatever route you choose, Mr. Yoshida says, HDS will need to deliver new products and services to help IT leverage social, mobile, analytics and cloud. This will call for a closer partnership between IT and their vendors in order for both to be successful."
HDS Tools for Successful Data Transformation
The Hitachi Content Platform from HDS will help your IT team take control of uncontrolled data growth and silos, and it will make your enterprise data security available to users anywhere, anytime. HCP allows your organization to:
Control access in multitenant environments
Secure data with built-in encryption
Satisfy today's compliance demands and adapt for the future
Safeguard data with multiple data protection options
ConRes will help you choose and implement an integrated solution that will seamlessly address your Big Data needs. Please call ConRes at 800-937-4688 to discuss your data analytics needs.