Do you run a small or medium business? Or are you a managed solutions provider who supports a small or medium business? Or are you just looking for better ways to manage your servers?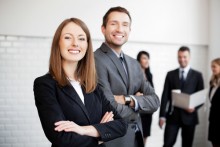 In the beginning of 2010, Lenovo brought to market the first generation, Intel AMT (Active Management Technology) deployed single socket server, the Lenovo ThinkServer Workstation. It quickly became Lenovo's best selling server ever. It provides tremendous value to small and medium businesses and to managed service providers. It all comes down to the remote manageability features and functionality of Intel AMT.
We can probably all agree that the largest pain point/challenge for small and medium businesses is cost constraint. Every server asset and any hardware you bring into your business has to provide superb ROI and rock-solid design innovation. You can't afford your server to go down. 24/7 uptime is a must. The challenge with that is that many small and medium businesses have a very small IT staff, and in some instances, no IT staff at all. Intel Managed Service Providers (MSP) better manage your network, reduce your costs, and improve your uptime, so you can focus on managing your customer relationships and spend less time managing your server.
Intel AMT 7.0 has three features, for your server space, that manages your network:
Remote Discovery
Remote Manageability
Remote Diagnostics and Repair
The Intel MSP look at all the aspects to manage your network and its performance, features and components. It's able to use Intel AMT technology with KVM (Kernel Virtual Machine) to be able to do an OS reboot, so you're able to remotely do things such as patch management and BIOS management.  In turn, the Intel MSP are able to manage your network more cost effectively so your IT staff is able to focus on other core responsibilities locally. It's a win-win for both parties.
Today, the Lenovo ThinkServer Workstations still remains one of the best solutions for your small or medium business. It offers next generation, Xeon E300 class technology, as well as Intel AMT 7.0 technology to more cost effectively manage your network.
Any experience to share regarding the Lenovo ThinkServer Workstations? Or Intel AMT? Please comment below!
Feel free to learn more about Lenovo on our Lenovo Blog. Also, if you'd like a no-obligation discussion with ConRes, please contact your local ConRes IT Solutions office or email us directly at LenovoTeam@conres.com