Ensuring you have the right test and measurement equipment at just the moment you need it makes great business sense. But in real life, just-in-time test equipment inventory can be quite a challenge to plan for and pull off.
On the one hand, fast-moving test and research projects and agile development practices can make it difficult to see into the future and forecast what your electronic test equipment needs may be. And tying up capital in expensive equipment that isn't used frequently isn't a good use of inventory dollars unless you deal with a test equipment supplier that's willing and able to move quickly. The long lead times that many instrument manufacturers require to fill orders can make it hard to implement more efficient T&M inventory management strategies.
We've pulled together a trio of case studies that describe how engineers overcome significant obstacles to get the electronic test equipment they need, when they need it. Â Wondering how to resolve delays and use long-standing relationships with manufacturers to cut through the red tape and expedite deliveries for your organization? Download our flipbook of case studies, How Engineers Get Electronic Test & Measurement Equipment When They Need It, for real-life examples of how companies and educational institutions manage their T&M inventory more strategically.
In addition to fast and responsive customer service, organizations also have the choice of new, used, rental, and rent-to-own options for test equipment acquisition. These programs provide an alternative way to procure necessary test and measurement gear without tying up budget dollars in a capital purchase, and obtaining exactly the gear you need, when you need it, for as long as you need it.
Make the best strategic decisions for acquiring electronic test equipment; give us a call at 800-937-4688 or email TestEquimentTeam@conres.com to contact one of our experts.
Download our Case Study Flipbook for your market:Â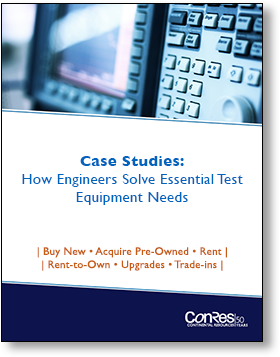 Wireless Connectivity: http://bit.ly/2fAPcYu
Aerospace and Defense: http://bit.ly/2glfijq
Education: http://bit.ly/2flE9zr