So, I may be a little late to the party, but I just looked through CompTIA's 2019 IT Industry Outlook and had two takeaways:
Technology innovation is leading us closer to realms that had previously only been explored in sci-fi tales.
We, as IT professionals, need to find ways of keeping pace.
CompTIA 2019 IT Industry Outlook Snapshot:
Porting existing applications to cloud providers will be replaced by rebuilding, then managing, applications to harness the advantages of cloud and edge computing and 5G connectivity.
Trends like the Internet of Things (IoT) and artificial intelligence (AI) will begin to enable user behavior at more granular levels, urging IT to separate themselves even further from maintenance activities and focus on strategic enablement.
The clout of the four-year collegiate degree will dwindle as companies rush to expand their talent pools and bring on the necessary skillsets to compete in today's climate.
Companies will continue to shift to a more holistic approach of managing technology, encouraging IT professionals to extend their skill sets across disciplines, departments and lines of business.
Growing Pains or Growing Opportunities?
I see these trends as both a massive challenge and a massive opportunity. Yes, there will be inevitable growing pains as IT evolves to meet the requirements of CompTIA's predicted landscape, but the upside is that organizations will become more competitive, agile and future proof. In this new frontier, IT teams will have the ready expertise and skillsets to scale and meet the needs of tomorrow's highly specialized technologies. What an exciting prospect!
No one can predict the future, and it's impossible to know exactly how the trends of today will impact our businesses tomorrow. That's why the question we should all be asking ourselves right now is, "What can I do today?" In my estimation, the best first step is to know the trends coming down the pike and assess how our teams are positioned to meet them.
How IT Decision Makers Can Respond
At ConRes, we've had a ton of customers navigate this process, and what tends to help them is proactively identifying and responding to the domain knowledge requirements, skillset gaps and budgetary constraints within their organizations. If you're interested in learning the four indicators we recommend they look at during this assessment phase, download our article here: Four Surprisingly Missed Opportunities to Enhance Your Team.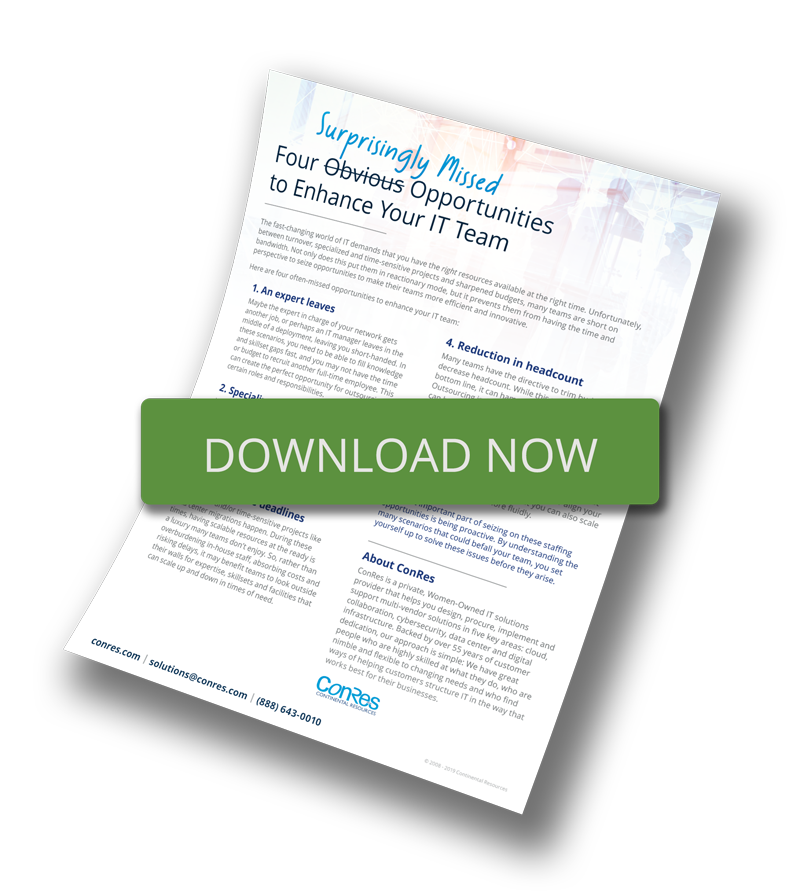 This blog post was previously published on Mark Boisvert's LinkedIn page.