High-performance computing. Virtualization. Consolidation. The Cloud. All these workloads increase performance demand on each server in your data center. The Intel Xeon processor E5 family is designed to increase your server performance to ensure you stay ahead of these latest trends. Not only do these Intel processors include more cores, larger cache, greater memory bandwidth then previous generations, but they also feature new and enhanced innovations like Intel Turbo Boost Technology 2.0 and Intel Advanced Vector Extensions.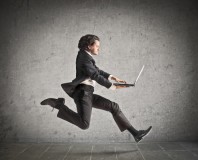 Like its predecessor, Intel Turbo Boost Technology 2.0 delivers performance when your software needs it and improves energy efficiency when it doesn't. It starts by looking for compute-intensive demands on the processor. When demand is high, Intel Turbo Boost Technology 2.0 determines whether the processor is operating below its thermo electrical limits and if there's head room to spare, boost the clock frequency of active cores to speed performance. The latest version of the technology enables the processor to go into turbo mode more often for longer periods of time and at higher clock frequencies to maximize overall compute performance.
Another feature, Intel Advanced Vector Extensions (Intel AVX) accelerates floating point operations. So how is it able to increase performance flow so dramatically? Whereas previous generation processors without Intel AVX processed floating point data 128 bits at a time, the new Intel AVX instructions utilize 256-bit wide SIMD registers, enabling software to process floating point data. That can significantly increase application performance for:
Financial analytics
Image, audio and video processing
Scientific simulations
3D modeling, rending and analysis
So what are your thoughts on Intel Turbo Boost Technology 2.0 and Intel AVX? These are just two of the innovations that accelerate application performance on Intel Xeon processor E5 family-based servers. Know of any others? Please share with the class!
We also encourage you to visit our Intel Premier Provider Page. Also, if you'd like a no-obligation discussion with ConRes, please contact your local ConRes IT Solutions office. Or email IntelTeam@conres.com.
And, of course, please share this blog post with your followers using our social sidebar below.