Many IT departments are hampered by storage infrastructures that aren't equipped to optimize management and communication. IT personnel are spending huge chunks of time troubleshooting backup problems & infrastructures while communications between lines of business are often incomplete or delayed. To determine if your IT infrastructure fits the bill, here are three questions you must first answer:
Are you efficiently managing your backup infrastructure?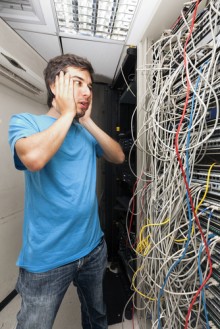 If storage managers are being stretched and your team is constantly running around putting out fires, then it's time to review some of the newer technologies that are emerging to simplify management while repurposing the time of storage experts.
Advanced visualization on IBM Cloud and Smarter Infrastructure's dashboard for instance, allows IT Departments to see entire backup environments at once – everything from server and infrastructure health stats to the results of 100's recent backups from multiple sites. An integrated line pop-up even prevents users from having to leave the dashboard, which acts as a one-stop-shop for managing the entire system. Any IT Manager can work this system due to its simplicity, allowing specialized Storage Managers to focus more time on future development and improvements.
How long are you spending troubleshooting backup problems?
Troubleshooting is where a huge amount of the storage management team's time is sapped. The key is finding a system that drives efficiency by simplifying. IBM Cloud & Smarter Infrastructure has found a way.
By having alert pages that prioritize problems while deciphering root causes, administrators don't have to waste time sifting through error logs. The dashboard tool also provides a breakdown of recent backups to see if any failures were detected and a timeline view allows users to see past backups. This dashboard can be customized to filter, sort, and prioritize issues.
How well is your IT team collaborating on complex issues?
Communication is the key to running a well-oiled department centered on efficiency. Utilizing new integrated dashboard tools available on newer storage management systems, including IBM Cloud and Smarter Infrastructure, your IT Department isn't limited to communications through traditional methods.
Since nearly any IT Manager can use this system, there is no need for storage experts to jump in and fix simple issues, like dealing with a backup that failed due to a reset password request. Now, IT Managers can change that password directly from their system dashboard and if specialized access is required from another administrator, then they can send a request to that person without leaving the dashboard.
Specialized issues can then be assigned to subject matter experts using the same dashboard tool. This self-service portal with role-based access reduces the complexity of storage systems while breaking down the walls between IT departments.
The goal of every IT Department is to lifeguard data & system performance in order to protect their company's future. An efficient storage and backup system is essential to achieving this goal. At ConRes, our team specializes in helping our clients achieve maximum value and performance while sticking to strict budgets. If you want to know how our IBM team improves your company's bottom line, and about our Premier Business Partner relationship with IBM, please visit us on our Partner Page, as well as our Partner Profile.
To learn about ContRes's Premier Business Partner relationship with IBM, visit us on our Partner Page, as well as our Partner Profile. Â If you'd like a no-obligation discussion with ConRes, please contact your local ConRes IT Solutions office. Have questions? Please call 800-937-4688 or email our IBM Team.