The age of the mobile device is upon us, and with this wave of portable smart devices comes challenges that companies have never before faced: mobile security. Every day, employees go about their everyday lives with portable devices strapped to their hips – portable devices that may be carrying private company data. This is why Mobile Device Management (MDM) software has surged into popularity over the last few years. For those researching MDM, it's important to look at systems that do more than simply wipe devices if an issue occurs. Here are four must-haves when it comes to shopping for MDM: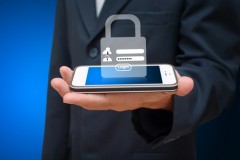 Integration. One way to make your company more efficient is to bridge the gap between different devices. Every change that takes place on your smartphone is immediately applied to your tablet and computer. Having data available in real time is an extremely efficient, time-saving tool.
Administrative uses. The ability to provide patches, take inventory, deploy applications, and update all the mobile devices that your company utilizes reduces strain on administrators and users alike.
Unified security. Protecting your company is the primary purpose of MDM. When determining which security elements to attain from your software, the key points to hit are:
1. Real-time visibility (know what is going on up to the second)
2. Unified enforcement (make sure all device types and brands are being monitored).
Software Management. Being able to manage and track software on company devices using patterns and trends is one of the most useful MDM applications. This allows companies to keep a storage-capsule type memory of everything that occurs on a device. Such a record has been the determining factor in many court cases, and is a necessary feature for companies that are concerned with tracking where their data is going and what it is being used for. This also acts as an emergency backup plan.
So there you have it, four of the most important features that make up great MDM software. One of the most competitive MDMs on the market today that hits all of these points is IBM's EndPoint Manager. Staying within the price range of most companies, EndPoint also received top marks for its ability to manage off-site physical and virtual servers as well as mobile devices.
MDM software has become critical for businesses. Data protection is a universal concern, and the right solution should offer more than a fast fix. To learn how IBM EndPoint Manager can help secure and manage your mobile environment, contact one of our ConRes agents today.
Know another great feature to look for in a MDM software? Comment below and tell us!
To learn about ContRes's Premier Business Partner relationship with IBM, visit us on our Partner Page, as well as our Partner Profile. Â If you'd like a no-obligation discussion with ConRes, please contact your local ConRes IT Solutions office. Have questions? Please call 800-937-4688 or email our IBM Team.