Mobile data growth seems destined to continue. But what options remain for organizations that are straining under the burden of storing this data? To block mobile devices from your corporate network would cripple employee productivity and devastate employee satisfaction.
The only other option is to find storage solutions that are capable of managing not only the greater mobile data volumes of today, but the exponentially increasing mobile data volumes of tomorrow. The Hitachi Data Systems approach is to provide one management platform for all structured and unstructured data. This management platform is called Hitachi Command Suite, and more specifically in regards to the mobile world, Hitachi Command Suite for iPad App. Last month, Hitachi introduced the general availability of the latest release, Hitachi Command Suite 7.2.1, which includes updates to the Hitachi Command Suite for iPad App.
As you probably know, the Hitachi Command Suite is an advanced data and storage management platform for data centers made up of both virtualized storage and server assets. It's designed to improve your data mobility, operations, provisioning, resilience and performance for your Hitachi storage environments. The true value of the Hitachi Command Suite iPad App is providing mobile access of storage management dashboards (example screenshot below) to properly monitor your Hitachi storage environment. By consolidating management operations across this app, you can organize and view their storage infrastructure from various business perspectives and establish storage service level requirements for key business applications from wherever you are.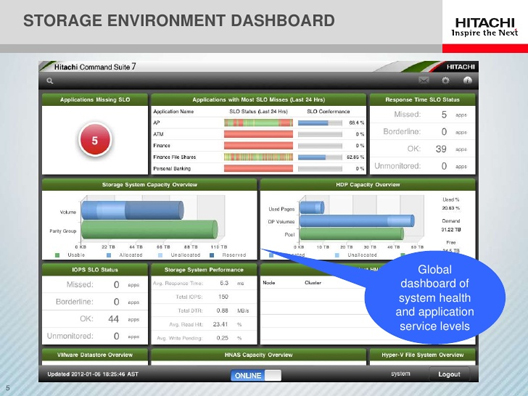 The key capabilities of the Hitachi Command Suite for iPad app include data center visibility to monitor the operation and status of all your storage systems, business application compliance to required service levels of capacity and performance, chargeback to consumers or business units for service levels delivered, and capacity planning to efficiently utilize existing storage resources and properly plan for future growth. Users of this mobile app also benefit from its application service level objective monitoring, application service level violation investigation, current storage capacity views, storage system health monitoring, and virtual infrastructure insights. The Hitachi Command Suite for iPad app simplifies system monitoring lowering your operational costs and ensuring your application-specific service level objectives are being monitored and met 24/7.
To read more about the Hitachi Command Suite, visit our HDS: Hitachi Command Suite page and download the Featured Resource. We also encourage you to visit our Hitachi/ConRes Partner Page.
If you'd like a no-obligation discussion, please contact your local ConRes IT Solutions office. Also, feel welcome to contact our Hitachi Team at HitachiTeam@conres.com.