As you are well aware, the business computing environment is evolving. From the multitude of devices and the various ways we access information, to all the applications and the interdependency among those applications. Maintaining security with all that going on is a challenge. And in a business environment, security is all about risk, assessment, management and mitigation. So any of these IT computing trends are all potential risks to the business:
The "webification" of apps
Device proliferation
Evolving security threats
The disappearing parameter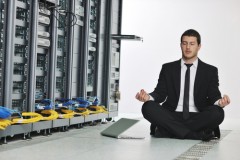 With the evolving security threats, additional security infrastructure might be necessary to deal with sophisticated attacks. Ultimately, businesses need to scale to meet the demands of a distributed worldwide workforce. They need to secure their data, not only from the targeted attacks, but also unauthorized access or inadvertent leakage of information along with staying current with any regulatory compliance requirements. Businesses also need to keep their infrastructure simple since complexity can be kryptonite to securing any infrastructure.
F5 delivers the scale, the performance, and the security necessary to protect the applications, infrastructure, and the operational efficiency within the strategic point of control of the data center. The BIG-IP platform is a full proxy architecture, establishing a TCP connection with the user to the BIG-IP and a separate TCP connection from the BIG-IP to the resources themselves and is able to apply policy on either end. This allows organizations to inspect, manipulate, or simply drop traffic both on the way in, on the way out, and any point along the stack, reducing business risks.
With BIG-IP version 11.3, F5 presents the Application Delivery Firewall solution. And within that, is the Advanced Firewall Manager (AFM), which is/contains:
A state full-proxy, ICSA-certified firewall
Flexible logging and reporting
Native TCP, SSL, and HTTP proxies
Network and Session anti-DDos with over 80 attacks types covered
The key about this solution is that all of these security features available in Advanced Firewall Manager have always been available on the BIG-IP. What F5 has done with the Advanced Firewall Manager is expose those features to make it more visible and easier to configure for the IT administrator. F5 has also greatly enhanced the logging and reporting so organizations are able to understand and mitigate the threats that might be present.
So what are your thoughts on this security topic and F5's Advanced Firewall Manager? Continue this conversation and comment below! And please remember to share this blog with your followers using our social sidebar below as well.
You can also learn more about the F5/ConRes relationship on our F5 Partner Page. Also, if you'd like a no-obligation discussion with ConRes, please contact your local ConRes IT Solutions office. Or email F5Team@conres.com.