Every year, data protection is a top IT challenge because of massive data growth. Organizations still have a fixed window to protect that, so when you look at your investment priorities, you first figure out what you're doing from a data protection standpoint to figure out how to squeeze more data out and protect it, all in a very specific period of time.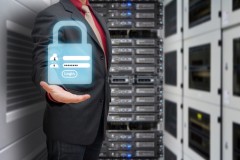 It doesn't matter what size organization you are either. For example, consider companies with less than 1,000 employees. Let's say half of them are having significant data growth per year that starts at a basis of around 10TBs. Then look at organizations with more than 1,000 employees with more than half of them dealing with data sizes that are about 100TBs with the same data growth. We're talking about massive data growth and still trying to get it protected in that short window.
So that's where deduplication comes into play. EMC's solutions reduce and protect your data. EMC sees that most organizations are currently using backup solutions that have deduplication within them over the next couple years. So just like disk became a standard in the backup process a few years ago, EMC now sees it as a standard as deduplication becomes as ubiquitous of a technology that addresses that idea of getting more data protected in a shorter period of time.
Loomis Armored, a cash handling services industry, deployed EMC's data protection solutions and have found a way to get over there perennial problems. Some of the issues they had before implementing the EMC solutions were not making their backup windows, having problems with restores, and relying on internal customers to swap tapes and back things up and make sure the tapes were being rotated properly. Even though they were monitoring some of that, it was still very difficult to substantiate that was being done. The backup process for them before was like a black hole. They didn't know what was being backed up, when it was being backed up, whether or not it was good or validated. So they decide to engage with EMC to find a better solution to backup their data. They found Avamar. Now, they're doing all their backups with EMC Avamar. With both Avamar and Data Domain, Loomis now no longer has to worry. They run smarter, faster, and simpler. 
For more on EMC Avamar, see our last EMC blog: Sick and Tired of Data Growth? EMC Avamar Will Soothe Your IT Aches
So what are your thoughts on data protection with EMC? Any experiences to share? Let us know!
We encourage you to visit our EMC Partner Page. And for a no obligation discussion, contact your local ConRes IT Solutions office. Or email our EMC team at EMCTeam@conres.com.
And, of course, don't forget to share this blog with your followers using our social sidebar below.