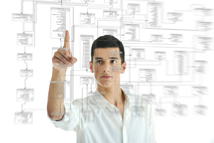 EMC BRS Data Domain now has Native Oracle RMAN support. This advanced Integration between EMC Data Domain Boost and Oracle Recovery Manager provides a faster and more efficient database backup solution. This allows Oracle DBA's to centrally manage backup for databases without having to use legacy backup applications.
Just last month, EMC announced their new EMC Data Domain Boost (DD Boost) integration with Oracle Recovery Manager (RMAN). DD Boost software provides advanced integration between EMC Data Domain deduplication storage systems and applications for faster, more efficient backup and recovery. DD Boost distributes part of the deduplication process to the Oracle database server and enables RMAN to directly manage Data Domain replication. Tight integration between the Oracle RMAN native backup and recovery utility and industry-leading Data Domain systems gives Oracle database administrators (DBAs) complete control over their Oracle database backup and disaster recovery.
The introduction of Data Domain Boost for RMAN means our DBAs will no longer have to rely on backup administrators for their mission critical Oracle recoveries. DD Boost for RMAN will enable our DBAs to gain complete control of Oracle backup and DR as well as achieve better backup performance. It's technology like this that allows IT to add value to the business, so now we're capable of doing more in support of our business!"
Director of IT, Credit Acceptance Corporation (EMC customer)
DD Boost increases Oracle backup performance up to 50% and enables more backups with existing resources by reducing the data transferred and associated LAN bandwidth requirements up to 99% and by reducing the load on the Oracle server during backup by 20-40%. In addition, DD Boost simplifies the database recovery process by enabling DBAs to manage onsite and offsite backup copies by controlling Data Domain replication from RMAN with full catalog consistency.
To join in the EMC conversation, please check out The Backup Window, EMC's blogging community.
Also, if you'd like a no-obligation discussion with ConRes, please contact your local ConRes IT Solutions office.