Between 2005 and 2011, the number of people in the U.S. working remotely rose 73 percent, according to the Telework Research Network. This dramatic increase can be attributed to the convergence of several factors.
Employers are continuing to recognize that a corporate dedication to a strong employee work-life balance directly results in greater productivity and cost-savings. In addition, the use of mobile devices for business has increased – with 66% of employees using two or more devices every day, including desktops, laptops, smartphones, and tablets (Forrester Research). Combined with business applications continually migrating to the cloud, these developments lead to ever-increasing opportunities for employees to leverage mobile devices for business efficiency – including the popular BYOD trend.
But how can employers guarantee secure mobile access to their IT environments, especially in cases where employees are using their own devices to log on to employer networks? Employers require a flexible and robust solution that can be tailored to their particular needs. That solution is VMware's Horizon™ View Mobile Secure Workplace.
VMware's Mobile Secure Workplace increases employee productivity and improves TCO with a simple, yet high-performing infrastructure that can be altered to accommodate existing or preferred functional components. Its centralized data management and automated architecture provides IT professionals with the ability to seamlessly handle the needs of end users, troubleshoot issues, and meet compliance requirements – which results in better control of the IT environment. The solution is also supported by a wide range of VMware partners and ecosystem products and services; making it flexible and easy to integrate.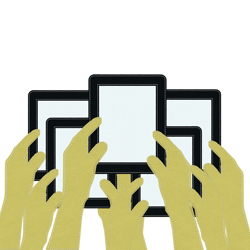 VMware Mobile Secure Workplace requires users to provide two-factor (or token) authentication to prove identity; ensuring top security for both the end user and the network being accessed. Users are then instantly connected to their desktops, applications, and printers via tablet, android, laptop, or other mobile device. VMware Mobile Secure Workplace's streamlined, yet high tech interface (including 3D graphics) offers end users both a functional and engaging experience.
In addition to B2B clients, VMware Mobile Secure Workplace has increased efficiencies and enhanced security for mobile device users in the education and health care sectors, among others. It brings work closer to the cloud, and provides a scalable and robust solution to the challenges presented by telecommuting and BYOD.
Today's increasing technical demand for flexibility, accessibility, and security can be easily and confidently addressed with VMware Mobile Secure Workplace. Contact us today to find out how to guarantee mobility, security, and a great user experience for your employees with this innovative architecture provided by VMware.