Forward-thinking service providers and enterprises are migrating to cloud optimized data centers to deliver business critical services more efficiently and minimize operation costs. As they design these next generation data centers, organizations are taking a hard look at the legacy network for three reasons: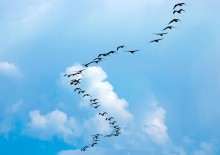 Virtualization demands more bandwidth and shifts data flows from north-south to east-west, straining existing switches to the limit.
Distributed web applications place greater pressure on the network to provide users with zero downtime and the highest possible performance levels.
IT's new focus on service delivery infrastructure requires a level of agility that legacy networks simply can't deliver.
These are just some of the factors that call for an erratically different approach to the data center network.
So what's wrong with implementing a cloud infrastructure around a legacy network? In short, the traditional 3-tier network architecture wasn't designed to meet the demands of today's highly virtualized environments. Most legacy networks achieve reliability through redundancy so nearly half of all connections go unused. An inefficient approach for sure.
In addition, years and years of simply adding components to scale the network has created a structure that's both unwieldy and rigid. Managing this level of complexity requires substantial staff time and resources better spent on strategic initiatives and innovation. Clearly, the legacy network is not up to the challenge.
If you'd like to further this conversation, please contact your local ConRes IT Solutions office for a no-obligation discussion. Please also feel free to visit our ConRes Professional Services page to learn about all of our solutions.
So what are your thoughts on cloud optimized data centers? Comment below and let us know what you think! And don't forget to share this blog with your followers using our social sidebar on the left as well!