Are you overwhelmed with information about converged and hyper-converged infrastructure? We're going to go back to basics here to define the terms based on what the industry is saying. In addition, we'd like to provide a quick outline of where these systems are best used, and an outline of what one vendor is offering in this ever-growing hyper-converged arena. This information is intended to help you determine if converged or hyper-converged solutions are right for your IT environment.
Convergence Defined
TechTarget.com defines hyper-convergence as a type of infrastructure system with a software-centric architecture that tightly integrates compute, storage, networking and virtualization resources and other technologies from scratch in a single commodity appliance supported by a single vendor. The key element in hyper-converged infrastructure is the inclusion of storage management software. This infrastructure in a box" can also include WAN optimization, inline deduplication and inline compression.
Hyper-convergence is an evolution of converged infrastructure. The most important difference between the two technologies is that in a converged infrastructure, each of the components in the building block is a discrete component that can be used for its intended purpose — the server can be separated and used as a server, just as the storage can be separated and used as functional storage. In a hyper-converged infrastructure, the technology is tightly integrated with software, and cannot be broken out into separate components.
The rise of convergence is a response to storage complexities and scaling challenges. Converged and hyper-converged infrastructure users say the bundled architecture changes daily operations in the data center. This is the fastest way to deploy infrastructure that supports virtualized environments, providing an organization with the flexibility to manage costs, enhance service delivery, meet evolving business expectations and increase revenue.
Who is Implementing?
The range of organizations moving to converged or hyper-converged infrastructure systems varies from those at small and medium-sized businesses to midmarket enterprises with limited IT resources, in all verticals, said Christian Perry, senior analyst at Technology Business Research (TBR). Converged infrastructure eliminates a great deal of IT work on integration and maintenance.  All in-house IT teams face the following challenges: gradual demand increase and new projects. Both are true of converged infrastructure users as well.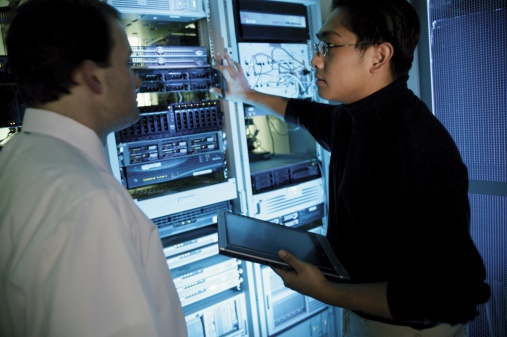 Converged and hyper-converged infrastructure is typically more expensive upfront, and requires a tighter refresh model compared to the staggered approach of server, storage and networking purchases. Converged architecture adopters are frequently at an inflection point of capacity, so these solutions don't push out fully functional, new hardware. However, users say the ongoing costs — maintenance, integration, support and scaling — make it less expensive than managing a mix of separate components.
How are Hyper-Converged Solutions Best Being Used?
The best-known uses for hyper-converged infrastructure that are worth consideration for your enterprise include, but are not limited to:
the simplification of virtual desktop infrastructure (VDI) by aiding in scalability and minimizing the costs/complexities associated with implementing traditional external shared storage;
support of virtual server environments with the use of streamlined, matched hardware that is typically supported by virtualization vendors;
test and development environments where self-contained converged systems get them up and running quickly;
support of relational databases providing cost-effective and efficient flash/DRAM tiering;
branch office implementations providing affordable enterprise hardware solutions that can grow or scale as needed;
virtualization-aware backup and disaster recovery that may offer instant recovery capabilities with storage that is designed to support running multiple virtual machines.
HDS Announced New Converged and Hyper-Converged Solutions in June
The newest offering from the line of Hitachi's Unified Compute Platform allow enterprises to start small, deploy quickly and scale infrastructure on their path to digital transformation. Hitachi UCP 2000 converged system and UCP HC V240, which is the first member of the new Hitachi Unified Compute Platform HC (UCP HC) line of hyper-converged solutions are flexible, agile and scalable for enterprises on their digital transformation journey. These solutions reduce cost and risk to data availability while alleviating complexity and accelerating time to value.
The Hitachi UCP family of converged and hyper-converged infrastructure solutions span from the core of the data center to the edge of the network to meet any enterprise IT requirement. The new Hitachi UCP 2000 simplifies and expedites deployment of private and hybrid clouds through the delivery of a pre-tested, pre-built converged infrastructure platform. With support for all-flash configurations, the UCP 2000 provides flexibility and scale with modular building blocks of compute, storage and networking that scale independently to run different application workloads.
Hitachi UCP HC V240 is an automated, versatile and policy-driven, hyper-converged infrastructure appliance. The system features virtual machine (VM) centric pools of capacity that are flexibly consumed based on VM-level policies that can be changed on demand. UCP HC V240 delivers high performance and scale without compromising simplicity and cost-effectiveness. The systems help customers build a foundation for business applications and next-generation solutions with a hyper-converged infrastructure. This all-in-one solution accelerates time to value with rapid deployment that enables customers to go from power-on to virtual machine creation in minutes. UCP HC automates provisioning and orchestration, simplifies installation, management, patches and upgrades, and provides linear scale-out that grows in small increments to meet business needs.