Today, let's take a few minutes to breakdown the Cisco UCS C420 M3 rack server, one of the latest editions to the Cisco UC family of products. The Cisco UCS C420 M3 is a high density server constructed for compute, I/O storage, and memory standalone applications. This rack server in particular provides several unique features.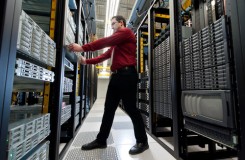 First, designed for performance and scalability, it provides a cost-effective, high performance platform that goes with Cisco's 4-socket rack and blade portfolio. Second, the UCS C420 M3 blends the advantage of 4-socket computing with the cost-effective Intel Xeon E5-4600 processor family and is ideal for demanding virtualization database and high end/high performance computing workloads.
Third, users can put up to 3 Cisco Virtual Interface 1225 Cards into this rack server. The 1225 Cisco UCS Virtual Interface Card is a dual port SFP + 10 Gigabit Ethernet and Fibre Channel over Ethernet capable PCI Express Card created solely for Cisco UCS C-series rack servers. And finally, the UCS C420 M3 is part of the Cisco UCS that combines consolidated management, stateless computing, and a unified fabric for both blade and rack servers.
Basically, this 3rd generation 2RU (two-rack-unit) Cisco UCS C420 rack server provides a cost-effective and high performance 4 socket platform, that's ideal for virtualization, database and high-end HPC (high-performance computing) workloads. The Cisco UCS C420 continues Cisco's commitment to reduce data center costs and improve operational efficiency, and agility through unified, programmable system, policy based automation and integrating with data center orchestration tools. The UCS C420 M3 compliments, integrates, and extends Cisco data center innovation like standard-based unified network fabric, Cisco's VM-FEX virtualization support, and their fabric extender and interconnect architectures. Cisco UCS simplifies the deployment of enterprise class applications operation virtualized cloud-computing environments.
Anything to say about this Cisco UCS C420 M3 Rack Server? What are your thoughts? Please share with us!
We also encourage you to visit our Cisco Partner Page, or Cisco Partner Profile, and our Cisco Resource Library. And for a no obligation discussion, contact your local ConRes IT Solutions office. Or email our Cisco Team at CiscoTeam@conres.com.
And please don't forget to share this blog with your followers using our social sidebar above!