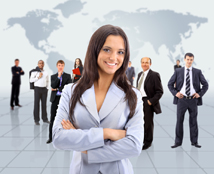 As you may already know, Continental Resources (ConRes) has recently achieved ATP – Cisco TelePresence Video Advanced Partner certification demonstrating deep and broad knowledge of video with capabilities in Cisco TelePresence video endpoints, along with the full breadth of infrastructure solutions and managed video conferencing services.
Now, both Cisco and ConRes provide a broad portfolio of intelligent, personalized services and support that recognizes the full value of an organization's Cisco TelePresence investment by increasing business agility and network availability. Cisco TelePresence provides comprehensive support throughout solution planning and deployment, showing organizations the benefits of this real-time, immersive technology. Also, Cisco TelePresence Essential Operate Service maintains a reliable, high-quality Cisco TelePresence meeting experience for all organizations.
One of the newest Cisco TelePresence products is the Cisco TelePresence TX9000 Series, which brings the new immersive benchmark in three-screen telepresence beyond the board room, enabling globally-distributed teams to easily participate in dynamic group collaboration sessions. The TX9000 Series consists of 3 high-definition video and content sharing screens, spatial audio and an advanced touch user interface, all specially designed for an immersive experience and ultimately helping to reduce total cost of ownership. It's being considered the new benchmark for in-person" collaboration, enabling businesses to transform themselves through natural and effective communication with advanced collaboration tools.
The TX9000 Series allows people to dynamically interact in ways that have never been possible before, while still maintaining exceptional visual and audio components. Whether participants are in the boardroom, at their desks, or out of the office, teams can easily unite for strategic planning and brainstorming.
To read more on the latest of Cisco Telepresence technology, check out these Cisco telepresence blogs.
We also encourage you to visit the ConRes Cisco Partner Page, the ConRes Cisco Resources Page, and the Cisco TelePresence Spotlight Page. If you'd like a no-obligation discussion, contact your local ConRes IT Solutions office. Or email our Cisco Team.