All the innovation at Cisco starts from the understanding of your business. Cisco knows that a large percentage of your costs go into maintenance and operations, which leaves very little budget available to fund new projects. In turn, this results in missing possible business opportunities. Cisco decreases your infrastructure cost, deployment times and power and cooling costs while increasing your application performance and the production of IT staffs.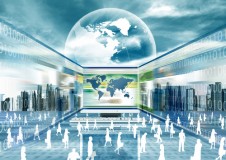 Knowing the main goal is to deliver IT-as-a-service, the main problem today is that existing IT staff, processes and technologies that weren't developed for an IT-as-a-service model are getting in the way. Cisco knows that in many cases, you've decided not to virtualize because you want to keep a solid physical infrastructure. In many cases, you are introducing virtualized applications because you may introduce cloud into your environment. In the end, your infrastructure is becoming more and more complex. The problem is that you're probably hearing about convergence as a way to bring that type of legacy infrastructure together with layers of legacy management software. But if you take that approach, you still know that the following components are true:
Converging Non-Integrated Systems are:
Computer, network and storage not designed for easy integration.
Layers of management software that hold together a loosely-coupled system.
     2.  Complexity Drives Up Costs:
Rigid models to upgrade and maintain your system designs.
Multiple tools and points of configuration potential points of mistakes.
Lack of system-level visibility across your data center.
Cisco is moving beyond convergence. Think unification. This is Cisco's approach to create the infrastructure to deliver IT-as-a-service. It boils down to three key elements that make up their portfolio:
Unified Fabric: The Creation of a Highly Scalable and Secure Network Fabric. Cisco was the pioneer in introducing the concept of fabric as a way to overcome silos in the data center. Cisco can achieve the geographical span to go across data centers.
Unified Computing: The Creation of Modular Stateless Computing Elements. This means that the computing elements they use in an environment like this don't need to be given a personality until you decide to do so which. Meaning, it'll be much easier to reconfigure these elements time after time.
Unified Management: Automating the Self-Service Resource Provisioning Model. Resources can be brought together because they've been designed to do so by a very thin layer of management that does all of that for you.
Please stay tuned to blog as we continue this discussion next week.
In the meantime, do you have anything to add about this Cisco portfolio? Or the Cisco Unified Data Center platform? Virtualization architecture? Please let us know and share your comments below!
We also encourage you to visit our Cisco Partner Page, or Cisco Partner Profile, and our Cisco Resource Library. And for a no obligation discussion, contact your local ConRes IT Solutions office. Or email our Cisco Team at CiscoTeam@conres.com.
 
And please don't forget to share this blog with your followers using our social sidebar below!