Picking up where we left off in Part 1, let's discuss the way Cisco brings all of their server portfolio elements together to bring resilient, flexible, secure and scalable solutions to you. There are many different models you want to use to procure this solution:
Pre-packaged, integrated solutions to get you off the ground quickly.
Pre-packaged, integrated solutions to incrementally expand your data center.
Components to support best-of-breed integration with heterogeneous infrastructure.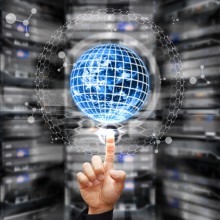 Cisco's fabric approach goes beyond system scale. They reach a geographical scale across data centers, which is very important, especially if you're thinking about a cloud environment where you need to move resources across different data centers. Also, with the type of innovation of combining unified computing systems of the past and unified management, Cisco goes beyond the concept of management layers to manage the legacy infrastructure. They are able to manage infrastructure that has been designed for automation, so the time-to-value and the time-to-deployment will be dramatically better.
Now it's also very important to understand that the journey to living with IT-as-a-service is a long one but Cisco will be with you throughout the process. This journey includes four phases:
Consolidation of the assets
Virtualization of the environment
Standardization of the operations
Automation of service delivery
These don't need to be sequential; they can be done in parallel. The important thing is as you go through these stages, you will increase IT operation excellence with more agility, more efficiency, more simplicity. You will also increase your cloud-readiness, being able to bring together physical, virtual, and cloud environments. Cisco developed this portfolio (described in our Part 1 blog) to guide you through this IT journey, from the consolidation of physical assets all the way to self-service provisioning.
Cisco has taken an approach changing the economics of the data center because they know it requires a unified approach to people, processes and technology. And they built a Cisco unified data center platform that is designed from the ground up. So it's no surprise that this Cisco approach delivers some of the best benefits in terms of agility, efficiency, and simplification.
So what are your thoughts on this subject? Any Cisco experiences to share? Please do!
We also encourage you to visit our Cisco Partner Page, or Cisco Partner Profile, and our Cisco Resource Library. And for a no obligation discussion, contact your local ConRes IT Solutions office. Or email our Cisco Team at CiscoTeam@conres.com.
 
And don't forget to please share this blog with your followers using our social sidebar below!