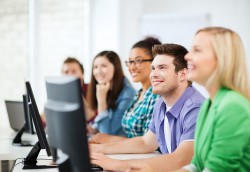 With the ever growing influence and presence of technology within educational institutions, IT infrastructures are being put to the test. The technology being run on these IT infrastructures is becoming more advanced demanding faster internet bandwidth speeds and larger database storage capacity. Not all institutions will have the know-how staff or resources available to implement such solutions. According to Education Week, 48 out of 50 states offer full-time online learning for students so they can continue classroom instruction out of the classroom. The proven effectiveness of online learning in the classroom shows that implemented effectively its presence will only continue to grow in schools around the country. Where should schools turn to for their solutions?
Brocade Campus Networking Solutions
With a decade of experience in networking solutions specifically for campus infrastructures, Brocade brings end-users automated, cost-effective, and agile solutions. This provides educational institutions and campuses with scalable tools and the technological capabilities required to host lightening fast internet speeds and a secure IT infrastructure.
Automated: Brocade offers premium quality hardware such as switches at entry-level prices into a consolidated domain. HyperEdge machines simply network deployment and implementation for fast network setups.
Cost Effective: Brocade's HyperEdge Architecture amplifies the features made available from top-shelf switches so that end-users receive the features they need immediately leaving extra capital to be used for other organizational needs.
Agile: Brocade hardware intelligently directs mobile traffic without sending it to unnecessary places such as central controller cutting down greatly on latency times.
Extended Benefits of Brocade Solutions
Utilizing a Brocade Campus solution can have extremely important long term effects for campuses and other organizations.
End-to-End Security: Brocade Campus Solutions, once implemented will offer complete end-to-end security for a secure network to prevent breaches and "unwanted" presences for the life of the solution.
Reducing Costs: The Low costs for premium quality hardware result with less hardware maintenance necessary. Brocade networking hardware will provide peace-of-mind knowing your hardware is reliable and time-tested.
Planet Friendly: With hardware optimized to run for your specific organizational needs Brocade hardware will avoid using excess energy also helping to reduce energy costs.
Contact the Brocade Team at ConRes for more information at brocadeteam@conres.com!
Or learn more about Brocade's Campus Solutions, visit Brocade Elite Partner
Sources
Education Week. "Technology in Education." Education Week. Editorial Projects in Education, 1 Sept. 2011. Web. 19 Dec. 2013.
Brocade Communication Systems. Delivering Dynamic Solutions for Higher Education with Brocade Campus Networks. San Jose: Brocade Communication Systems, 2010. Print.