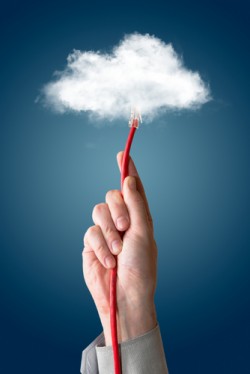 More and more is being expected of technology developers and businesses everywhere. Technology is so rapidly developing that people expect more than ever from their electronics and are always looking for the next "big thing". People spend increasing amounts of time engaged with technology. According to Daily Reckoning, the average person spends about 12% of their day on mobile devices. This has business development teams in a frenzy to keep up with this thirst for new tech and gadgets. With R&D teams working faster will your business`s current Ethernet solution keep up with the speed which is becoming the norm?
Standard Ethernet technologies can limit the output potential of a business because of increased connection latency, slower speeds, and antiquated hardware architecture. Most IT infrastructures and datacenters rely on Ethernet connections to manage diverse sets of applications key to business functions. This datacenter could be of the top tier and latest available, but if slowed by a lower caliber Ethernet solution this holds back overall potential business productivity. A slow Ethernet connection hampers a datacenter`s business critical web services, unified communications, virtual machines, and client access. Ethernet can also be utilized for shared storage pools. This places even more strain on the organization`s network, which if not addressed can lead to packet loss, increased latency and even slower network speeds. Organization seeking to expand their networks on a traditional Ethernet connection face problems each time a switch is added. Newly added switches increase latency and create further delays in information flow. The culprits are the independent controls and management planes of each switch.
Strides to surpass the limitations of traditional Ethernet have opened the door to the next era with Ethernet fabric technology. Ethernet fabric technology improves upon its predecessor in many ways. It logically eliminates the management of multiple switching layers. This simplifies the flow of information allowing it to reach its destination more quickly. Ethernet fabric technology also applies policies and managing traffic across many physical switches as if it were one switch and scales network bandwidth without the need for manual reconfiguration. This new technology overall, delivers previously unmatched IT agility, increased network reliability, and cost effectiveness. This creates a high ROI for organizations who implement Ethernet Fabric solutions into current systems.
Continental Resources, being a premier partner of Brocade, proudly offers Brocade Ethernet Fabric solutions for those seeking to benefit from this amazing new technology. Brocade has pioneered the forefront of the Ethernet fabric movement with their VCS Ethernet Fabric Technology. This technology gives data center teams the capability of creating high performing data center networks that share information across nodes and have the capability of being managed as a single logical chassis. This simplifies management and operational overload allowing staff to concentrate on other factors to move a business forward. ConRes engineers are with clients every step of the way as they assist in the implementation and integration of new systems and are adaptive to specific scenarios to ensure the best experience possible.
Please feel free to reach out to us at 800-937-4688 or at BrocadeTeam@ConRes.com if you ever have questions. You can also find more information by visiting our partner site.
Sources
Brocade Communications Systems Inc. BROCADE VDX 6710 SWITCH. San Jose: Brocade Communications Systems, 2013. 13 Aug. 2013. Web. 24 Feb. 2014.
Brocade Communications Systems Inc. An Introduction to Brocade VCS Fabric Technology. San Jose: Brocade Communications Systems, 2014.Www.brocade.com. Brocade, 14 Feb. 2014. Web. 24 Feb. 2014.
Brocade Communications Inc. "Ethernet Fabric Overview – Brocade." Ethernet Fabric Overview – Brocade. Brocade, 2014. Web. 24 Feb. 2014.
Brocade Communications Inc. "Brocade Ethernet Fabrics Lower OpEx by 50% – Brocade Community." Brocade Ethernet Fabrics Lower OpEx by 50% – Brocade Community. Brocade, 4 Feb. 2014. Web. 24 Feb. 2014.
Basenese, Louis. "The Six Most Fascinating Technology Statistics Today." Daily Reckoning. N.p., 7 June 2013. Web. 24 Feb. 2014.