Broadly speaking, your organization is probably virtualized, which means you're trying to virtualize mission-critical applications, enterprise desktops, and automating a lot of the data center operations. This is a critical step in realizing the full vision of an automated cloud operation.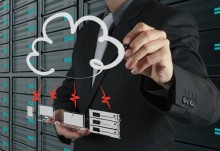 We know that you probably want to simplify network operations in a cloud environment, so it's vitally important that the vSphere and the cloud management layer from VMware integrate very tightly with all the network components. To that end, the partnership and investments VMware has with Brocade pay off for their customers. The work VMware and Brocade have done together with the VCS and VDX series of switches helps their customers broaden the network, overcome distance barriers, and simplify management.
The infrastructure has to work lockstep with the data center operation system, which is vSphere. At that level, VMware wants to make sure that they are providing proper virtualization to the networking, storage and server layers so that you can manage everything through an automated software-based toolset.
VMware's work with Brocade is designed to overcome a lot of these network limitations and achieve the promise of virtualized desktops. Meaning that an end-user at any point in the organization will be able to have a rich end-user experience with high performance and low latency, while IT will still be able to manage everything from their centralized resource. In this regard, the work that VMware is doing to try and build a software defined network (SDN), along with the work Brocade is doing at the hardware switch level , is very synergistic. The two technologies and the integration efforts VMware put together will enable you to have a very seamless network within a larger, more automated cloud environment.
So what are your thoughts on this subject? Have any Brocade experiences to share? Please do!
We also encourage you to visit our Brocade Partner Page and our Brocade Resource Library. And for a no obligation discussion, contact your local ConRes IT Solutions office. Or email our Brocade Team at BrocadeTeam@conRes.com.
Don't forget to please share this blog with your followers using our social sidebar below!