5G is the fastest growing buzz across the wireless industry in recent months. Although there is no official definition or standard, it may soon become a standard in the coming years.  But what exactly does it mean, and how can you prepare for it? Read on to find out.
Rising demands for greater capacity
Mobile data has increased exponentially over the last 5 years, exceeding monthly global transmission rates of 2.6 exabytes. By 2018, 70% of traffic is anticipated to come through mobile devices.
LTE is the current underlying technology for mobile data consumption, and video in particular is the biggest service for data consumption. Video is only an aspect of data consumption to consider for a 5G system, however. As well as a very high data rate of up to 10 Gbps, 5G also offers a much lower latency rate down to 1 ms.
The advantages on offer
These differences can offer significant improvements for users of mobile data across various applications. As well as benefiting existing services, 5G could also see the introduction of new technologies that can benefit from this, enabling new types of services that are limited by the current higher latency.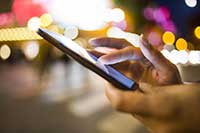 Additionally, a much higher capacity can also be made possible as more devices can be accommodated, particular with machine to machine communications. But as well as higher frequencies and greater bandwidth, another advantage of 5G is a more practical one – up to 10 times longer battery life.
Challenges and considerations
Some aspects of 5G have been outlined in research publications already, such as more virtualization and cloud based networks, the deployment of remote radio heads, splitting the control and user plane, decoupled downlink and uplink, device to device communication and massive MIMO and beamforming.
But while is it still not fully understood how 5G devices may work in different environments and the impact of different materials around them, the first concern is to find a suitable channel model for 5G millimeter waves.
Some current challenges include the covered frequency range, mobility, frequency rate solution and other aspects. While initial models may be made available, they will still take time to test for mobile devices and infrastructure.
Higher frequencies and bandwidth are a prominent future of 5G testing. To reach the higher frequency levels needed for 5G, one of the most common ways to accomplish this is via the up-conversion principle, with an external mixer and a high pass filter. Different models offer various overlapping frequency ranges, and vary in use – some need little or no software to use them and can simply be connected via USB, while others are more complex to use.
Bandwidth will also need to be increased, and an IQ generator could be used to achieve this. It's important to remember that as external filters and mixers will need to be used, these components are usually handmade and have individual attributes that need to be characterized – a vector network analyzer can be used to characterize a high pass filter, for example, or analyze signals at higher frequencies.
While 5G is not anticipated to be available until 2020, in order to reach the target date for a deployable 5G system, standardization would need to start well in advance, making the need for testing and measurement across projects and technologies absolutely imperative.
Do you have any questions about 5G systems and what you might need to do to prepare for them? Get in touch with us.