The next generation of smartphones, the newest tablets, the hottest marketing apps, an influx of new hires, employee movement for an IT professional, managing the always-connected enterprise is a juggling act. How do you manage this digital transformation in the new era of connectivity?  First it is best to break it down:
Step 1: Assessment
You can't come up with a viable connectivity solution until you've identified fully where the issues lie. Not only do you need to assess your current wired and wireless environment, it is important to consider what's next.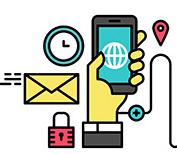 Millennials have now surpassed Baby Boomers in the workforce and, with that demographic shift, you're no doubt experiencing a workplace transformation. GenMobile, as they are sometimes referred to, were figuratively born with another appendage a smartphone and organization should account for this in their security and connections available to accommodate this shift.  According to Hewlett Packard Enterprise When people interact with the connected world, they feed incredible synergies among humans, machines, software and our environments. But it's the quality and efficiency of those interactions that affects your organization's ability to be transformative and achieve the business outcomes needed to thrive in the idea economy." Hence, your enterprise mobility infrastructure needs to account for not only the various devices that will attempt to access your corporate network, it needs to carefully consider who the people and the Internet of Things behind the devices, how they use their devices (company-issued, BYOD and guest access) and from where they'll access the network (on premise, remote, cloud, branch office).
Step 2: Evaluation
Considerable investment goes into building your network infrastructure. You need to evaluate which enterprise mobility solution fits best, while at the same time making it more adaptable, future-ready and highly secure. For maximum agility to respond to the demands of the business, the ideal infrastructure is software-defined. Software-defined networking and policy management software programmability are key to enforcing secure mobility. A software-defined network gives IT managers the ability to adapt to the needs of the GenMobile workforce by understanding contextual information: where the user is, which applications are in use, and which devices are connecting (including devices that are part of IoT). Your network must be able to dynamically adapt to your users' mobility demands by leveraging SDN capabilities.
Step 3: Solution
Prepare for the mobile-centric, Wi-Fi-fueled workforce that doesn't compartmentalize work hours from personal time. A well-crafted, secure, flexible business environment will help your company attract the best talent and the most productivity from #GenMobile.
Having worked with our many clients on assessments and evaluations, we often come around to recommending Hewlett Packard Enterprise's Aruba ClearPass Policy Manager as an integral part of the access layer solution. Aruba, an HPE company, offers an advanced policy management platform that ranks as a leader in Gartner's Magic Quadrant for Wired/WLAN access. Within this single platform, you can centrally enforce all aspects of access to your wired or Wi-Fi network including privileges based on user; device type, health and location; MDM attributes; and more.
Learn more about ConRes wired and wireless networks product solution.
For 50 years, ConRes has been helping companies find solutions to even the most complex IT challenges. We'll help you avoid the chaos and control your mobile enterprise.